6 April 2020 14:43 (UTC+04:00)
1 904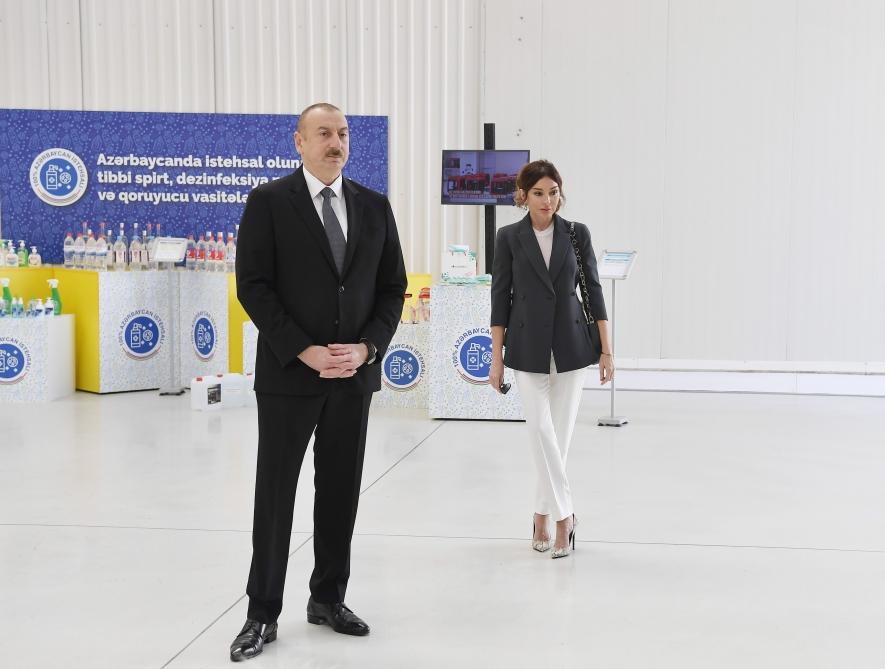 By Ofelya Afandiyeva
Azerbaijani President Ilham Aliyev and First Lady Mehriban Aliyeva attended the inauguration of medical masks manufacturing enterprise established by Baku Textile Factory LLC in Sumgayit Chemical Industry Park on April 6.
Addressing the event the head of state spoke about the importance of this issue: "Today, the production of medical masks begins in our country. This is a very significant event. Presently, there is a shortage of medical masks in many countries around the world, including Azerbaijan, and we have always been dependent on imports in this area. However, taking into consideration the current situation, local production was organized in a short time, only two weeks. Entrepreneurs have a great role here, and at the same time, the Azerbaijani state has provided its financial support. Thus, in a short time, a new modern production entity was launched, which will allow us to provide ourselves with medical masks to a large extent."
"As you know, the use of masks is especially important in the fight against coronavirus. At the same time, the production of disinfectants has been organized in Azerbaijan today. Our advantage here was that there are several medical alcohol enterprises in our country, and they have started to produce disinfectants and are the products are already on sale. Thus, in order to fight more effectively, it has been repeatedly stated that citizens should be more responsible and pay attention to personal hygiene. But there must be resources to ensure this, and today they are already on the market - medical masks and disinfectants," the president said.
Aliyev especially urged the people involved in illegal acts in the market: "Now one of the main issues is to avoid artificial price increases in pharmacies and other places of trade. Because the shortage of masks has already led to an artificial increase in prices, and in some cases, the masks were sold indirectly and unofficially. These cases should not be allowed at all, and the relevant government agencies should apply a very strict control mechanism. If there is an artificial increase in prices, those involved will be severely punished because in the current pandemic, such steps will be considered treason."
"It is no coincidence that this production facility was established in Sumgayit Chemical Industry Park. This park was created upon my initiative and many enterprises already operate here. These enterprises also make a significant contribution to our non-oil economy," the head of the state noted.
Then, Minister of Economy Mikayil Jabbarov and director of Baku Textile Factory LLC Sakina Babayeva informed the president and first lady about the enterprise.
Established by Baku Textile Factory LLC, the medical masks manufacturing enterprise was provided with a venue in Sumgayit Chemical Industry Park and gained Industrial Park resident status.
The enterprise creates more than 30 new jobs which will employ people in three shifts. At the initial phase, the enterprise will produce 120,000 medical masks a day.
Another production line will be set up in the coming days and in the second phase, the enterprise will double its production and manufacture 200-250,000 medical masks per day.
The head of state and first lady then was informed about medical alcohol, disinfectants and protective equipment produced in Azerbaijan. Currently, six companies produce disinfectants.
President Ilham Aliyev and first lady Mehriban Aliyeva were also informed of the STEAM-Azerbaijan project.
---
Follow us on Twitter @AzerNewsAz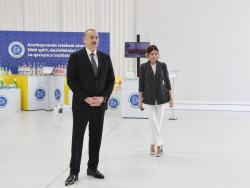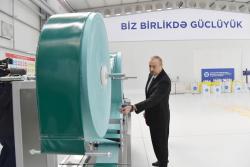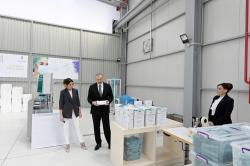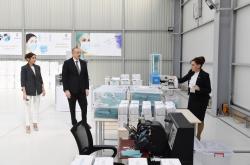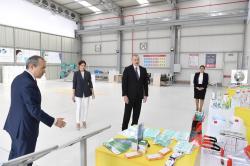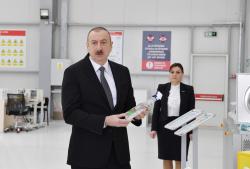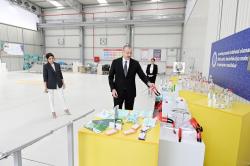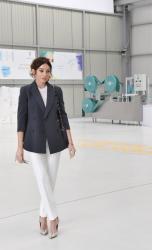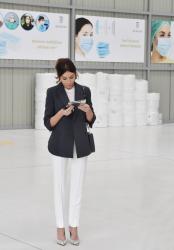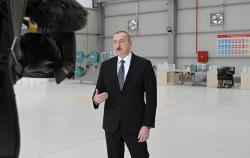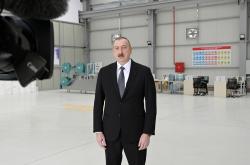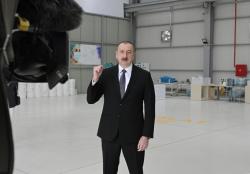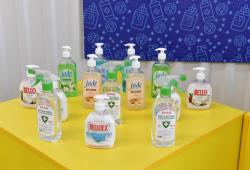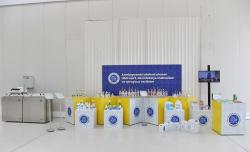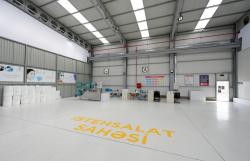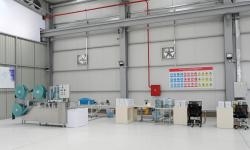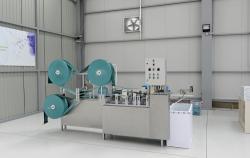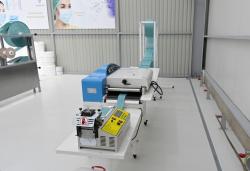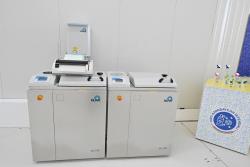 Related News