2 November 2018 19:00 (UTC+04:00)
3 885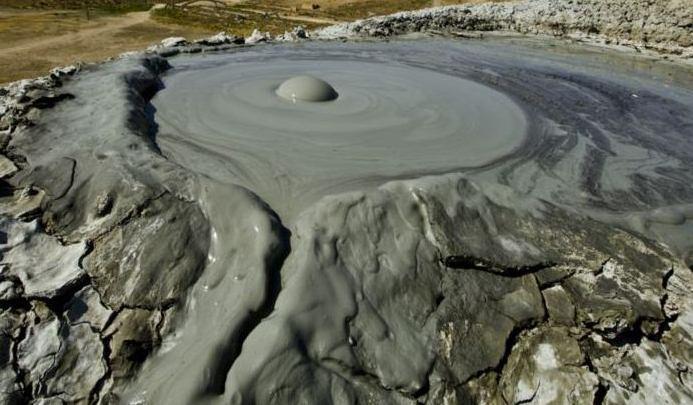 By Narmina Mammadova
Excavation work carried out near mud volcanoes provoked their eruption, the head of the mud volcanism department of the Institute of Geology and Geophysics of the National Academy of Sciences of Azerbaijan (ANAS), Professor Adil Aliyev told Trend on November 2.
The head of the department noted that the human factor provoked the eruption of some mud volcanoes in Azerbaijan.
"In particular, Kechyaldag volcano located near the Jeyranbatan reservoir erupted in 2000. It is noteworthy that until this time we did not record the activity of this volcano. The eruption of the volcano was due to the fact that during the laying of the pipeline line near the crater, earthworks were carried out. In turn, the crater of the volcano has undergone erosion. As a result the volcano woke up. We believe that the eruption of this volcano was also provoked," Aliyev said.
Aliyev noted that the excavation work carried out in 2001 near the crater of a volcano located near the village of Lokbatan also led to a strong eruption of the volcano.
There are 1400-1500 mud volcanoes on Earth. More than 300 of 700, that is more than 45 percent of all mud volcanoes are concentrated on the territory of Azerbaijan, while most of them are located on the Absheron Peninsula. Mud volcanoes appeared on the territory of the present Azerbaijan Republic 25 million years ago.
Mud volcanoes by origin are associated with oil and gas fields. Rich deposits of gas condensate and oil (Lokbatan, Garadagh, Oil Rocks, Mishovdag, etc.) were found in these areas. In addition, the mud and liquid that mud volcanoes spew are used as raw materials for the chemical and construction industries, as well as for pharmacology.
Mud volcanoes are located far from populated areas. Most of these territories are under protection, and it is strictly forbidden for people to enter there without special permission. Otherwise, everyone will face a large fine - for individuals the amount is 400-600 manats, and for officials – 2,000-4,000 manats.
These bans have several reasons. Firstly, in this way the territory of the volcanoes is protected from possible contamination by people, secondly, possible attempts to carry away the mud from the territory of the reserve are prevented (this mud can be used during construction). And finally, the main reason is that each eruption volcano is a danger to human life. Volcanic eruptions have occurred on the territory of Azerbaijan many times. The first eruption of the volcano occurred in 1828. It was located 15 km from the capital Lokbatan volcano, and it has erupted 17 times since then.
---
Follow us on Twitter @AzerNewsAz
Related News