26 January 2021 10:20 (UTC+04:00)
1 205
By Vafa Ismayilova
Azerbaijan has sent letters to international rights commissioners and law-enforcement agencies of 25 countries to brief them about crimes committed by Armenia in the 44-day war between September 27 and November 10, 2020, the Prosecutor-General's Office reported on its website on January 25.
This was stated at an expanded video-format collegial meeting held at the Prosecutor-General's Office on the results of the work carried out in 2020 and the upcoming tasks. The meeting was attended by officials from the central office of the Prosecutor-General's Office, the Military Prosecutor's Office, Nakhchivan's Prosecutor's Office and the Military Prosecutor's Office, as well as the Baku City Prosecutor's Office.
It was noted that 37 foreign countries' competent authorities were sent petitions to get legal assistance over Armenia's crimes, as a result of which 93 people, including 12 children and 27 women were killed and 407 people, including 50 children and 101 women, were injured. The UN Human Rights Commissioner, the Council of Europe Human Rights Commissioner, the CIS member states' Coordination Council of Prosecutors-General, the prosecutors-general and justice ministers of 25 countries are among those getting information about Armenia's atrocities.
Prosecutor-General Kamran Aliyev said since September 27, the Prosecutor-General's Office had launched 62 criminal cases over Armenia's war crimes and other crimes committed by the Armenian armed forces. A total of 21 people, that is 17 mercenaries and four Armenian citizens were put on the wanted list.
He added that during the Second Karabakh War, about 30,000 shells and 227 missiles were fired at Azerbaijan's regions and cities, numerous facilities, including private and apartment buildings, ancillary buildings, non-residential areas, administrative buildings, various government agencies, religious sites, mosques, churches and cemeteries were damaged.
He added that the coordinated work between the Prosecutor-General's Office and the competent authorities is underway to determine the amount of damages inflicted on settlements, well as historical, religious, and cultural monuments and other property that had been deliberately looted and destroyed as a result of Armenian vandalism.
It was stressed that the necessary investigative measures were carried out to bring to book all the perpetrators within the framework of international law, including those from foreign companies involved in illegal business activities on the formerly occupied territories, entailing gross violations of environmental and subsoil use rules and the implementation of illegal settlements on Azerbaijan's historical lands.
The meeting also focused on the active participation of the Prosecutor-General's Office in the work of the state commission to assess and eliminate damage caused by the occupation, which was set up under the presidential order, as well as the Coordination Headquarters over the centralized solution of issues in the liberated lands.
--
Follow us on Twitter @AzerNewsAz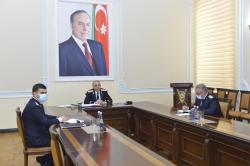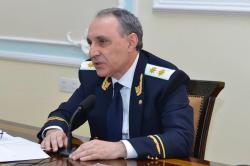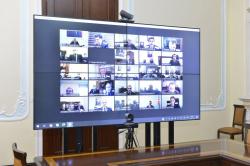 Related News