23 December 2013 19:05 (UTC+04:00)
1 254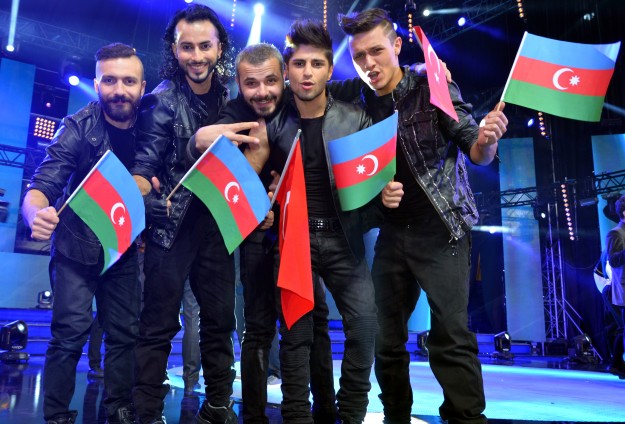 By Nigar Orujova
An Azerbaijani singer won the inaugural song contest "Turkvizyon" on December 21.
The first Turkvision song contest was held in Eskisehir, the cultural capital of Turkish world, on December 15-22, 2013.
Some 24 countries including Azerbaijan attended the contest, co-organized by 2013 Eskisehir Turkish World Capital of Culture Agency, TURKSOY, Anadolu University, and TMB TV channel.
Inspired by the Eurovision Song Contest, the contest is planned to be the annual song festival for mostly Turkish speaking and Turkic ethnicity countries and regions with about 300 million viewing audience.
Young but talented Farid Hasanov won the contest's finale with 210 points after heartily performing the song "Yasha" (Live), composed by GovharHasanzade, leaving behind 11 less successful singers on December 21.
"I intend to continue to represent Azerbaijan at a high level," Farid said.
The winner said he is very excited to be honored with the first place award and expressed his gratitude to all the contest's organizers and contributors.
GunesAbbasova, another Azerbaijani singer who represented Belarus at the contest, ranked second with 205 points, while Fazile Ibraimova from Ukraine was third with 200 points.
Addressing the finale event, TMB CEO Samir Gurbanov highlighted the importance of this competition for the entire Turkic world and urged the Turkic world to participate in future contests.
"This is not just a song contest for the Turkic world; it is a union of hearts. Regardless of who will be the winner of this competition, this is a victory for the Turkic world," Gurbanov said.
The next "Turkvizyon" contest will be held in Kazan, the cultural capital of the Turkic world, in 2014.
Holding the "Turkvizyon" song contest will provide an opportunity to identify young talents in Turkic world, and Azerbaijan Youth and Sport Deputy Minister Intigam Babayev believes that the contest is a new ground in this regard.
"We are very pleased that Azerbaijan was awarded first place in the contest. This is a victory for us. I want to congratulate all of you. I also believe that this song contest will achieve its goal. I would say it has already achieved it," Babayev said.
Babayev believes that the contest is of particular importance in terms of its moral influence on the young generation, as the contest provides young people with an opportunity to get acquainted with the culture of the Turkic world.
Secretary General of the International Organization of Turkic Culture (TURKSOY) Dusen Kaseinov said holding the song contest was a very good move.
Turkic and non-Turkic states participated in this song contest, and all the participants demonstrated a diversity of performances, Kaseinov said.
"I was always asked why there are no large-scale song contests in the Turkic world? Can we not hold such contests? We can handle it both financially and from a musical point of view. I also took part at the final show as a spectator, and I have experienced wonderful feelings as a spectator," he said.
"The contest helped us to establish contacts with each other. I am very satisfied with it. I am very pleased when young people are friends with each other. Communicating with each other and learning something new from each other can increase their level of professionalism. The future is in the hands of young people. This song contest helped find young talent together, and the result is simply amazing," Kaseinov said.
National "Yeniulduz" contest finalist Farid Hasanov, now 21, started his musical education at 12, when he began to take vocal lessons.
Farid participated in the musical show "Yeni Ulduz" and was then invited as a soloist to the youth group "Next". In 2010, he entered the Azerbaijan University of Culture and Arts at the variety arts faculty, where he is a senior at present.
Farid started his solo career in 2011, and was a member of the national selection tour for "Eurovision" song contest. He also participated in sports activities and even entered the handball youth team, but quit due to pursue his musical career.
Related News