22 August 2013 15:56 (UTC+04:00)
1 635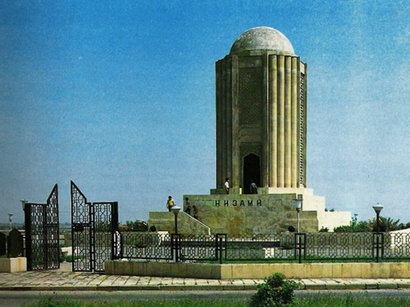 By Nigar Orujova
Tiles with poems of Azerbaijani great poet Nizami Ganjavi in Azerbaijani language will be placed at the Nizami Ganjavi's mausoleum in Azerbaijani city Ganja, the Director of Nizami Ganjavi Centre of the National Academy of Sciences (ANAS) Khalil Yusifli said to the local press on August 21.
Tiles with poems in Persian language were placed in the mausoleum in 1997, and they do not possess any historical value, Yusifli believes.
The verses, consisting of four couplets, is a praising of the Islamic prophet Muhammad, and is included into Leyli and Mejnun poem. These four couplets were taken from the second part of the poem, consisting of 110 couplets, Yusifli added.
Yusifli said that these four couplets were translated into Azerbaijani, approved by ANAS and will replace the version in Persian. The poems were translated by Khalil Yusifli.
Along with these poems, Nizami Ganjavi's other poems dedicated to his native city of Ganja will also be placed in the mausoleum in their original translation into Azerbaijani.
According to Yusifli, sometimes visitors seeing poetry in Persian in the mausoleum mistakenly believe that Nizami Ganjavi was a Persian poet.
This step is taken to ensure that everyone knows that Nizami is a representative of Azerbaijani literature, he said.
Previously, Iranian Deputy Foreign Minister for Asia-Pacific Affairs Seyyed Abbas Araqchi expressed regret for the replacement of poems in Persian.
Several Iranian media outlets described this as a distortion of Nizami Ganjavi's personality. Some Iranian litterateurs believe that Nizami was born in Iran's Qom city.
However, this idea is not accepted in Iran itself. Since the 12th century and to this day all historians and authors of memoirs emphasize that Nizami was born in Azerbaijani city of Ganja.
There is not an historical document, which put this fact under question. In Iran, as elsewhere in the world, the poet (his full name Jamaleddin Ilyas ibn Yusuf Nizami Ganjavi) is called Nizami Ganjavi (Ganjavi means from Ganja). In his works Nizami also repeatedly stressed that he was born in Ganja.
Nizami represented the quintessence of world literature and philosophy in his immortal work Khamsa (The Five), via the aesthetic power of his art. Even now, at a time when science and technology are developing exponentially, mysticism remains a source of intense fascination, and it is impossible not to be amazed by the clear logic and consciousness reflected in the works of the outstanding poet.
Nizami's works have been translated into English, German, French, Italian, Spanish, Japanese and other languages of the world. His life and creations were extensively researched.
The unique manuscripts of his works are stored in well-known libraries and museums in many cities of the world, including Baku, Moscow and St. Petersburg, Tashkent, Tabriz, Tehran, Cairo, Istanbul, Delhi, London, and Paris.
Related News