Zhara-2017 opens in Baku [PHOTO]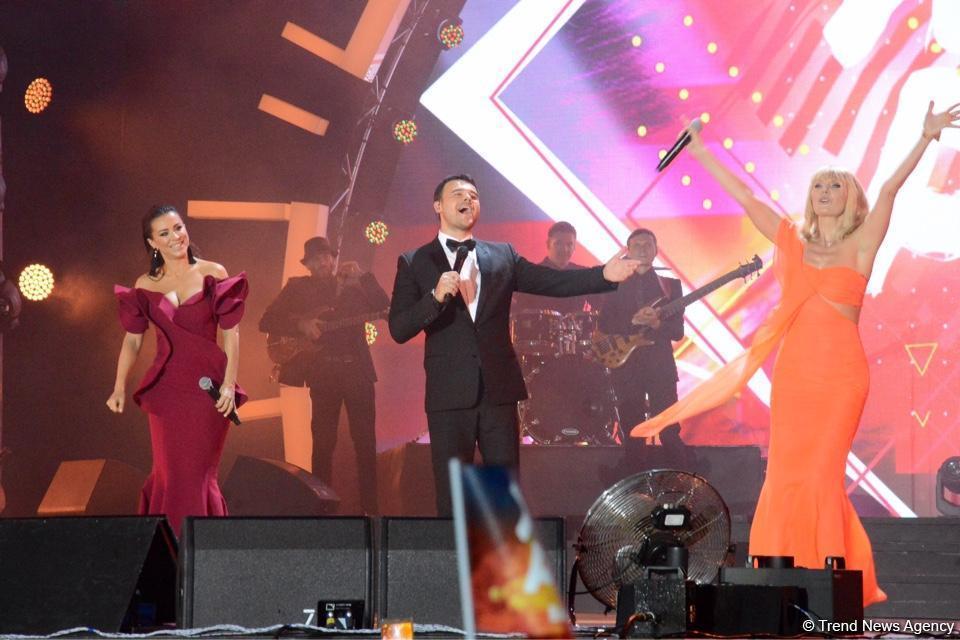 By Laman Ismayilova
This year's biggest fest has opened in Baku bringing a lot of joy and colorful moments.
The long awaited festival stipulates multiple days of entertainment and unforgettable concert-going experiences.
With so many opportunities to follow your favorite artists, Zhara-2017 International Music Festival has started with the performance of "Lets run to Baku" song by Emin, Ani Lorak and Valeria at Sea Breeze Resort, Azertac reported.
Yana Churikova and Andrei Malakhov were the hosts of the show.
Prior to the performance, celebrities walked on the red carpet, gave interviews and posed to photographers with fans. Yulia Lisenko and Slava Nikitin hosted the red carpet ceremony.
The organizer of the festival, famous composer and singer Emin and his children were the first arrivals. Then came singers Anita Tsoy, Oleg Gazmanov, organizer Sergei Kozhevnikov with his family members, Egor Krid, Valeria and her husband Iosif Prigozhin.
More than 800 musicians from various countries will perform at the four-day festival.
The live show will feature incredible dances, popular hits of 2017 and striking stage design.
Not only fans are very happy to meet their idols, but also artists.
"I have very nice impressions about Baku. I love your city very much. The people here are very hospitable and nice. Your cuisine is another world", Ukrainian pop star Ani Lorak who attends Zhara festival has told Azertac.
"Azerbaijan is a wonderful, a God blessed and a very hospitable country. Many discover it for the first time. Here we see warm atmosphere, summer festival. Many Russians already plan their summer vacation in Azerbaijan, rather than other countries because by coming to this festival you can watch performance of many celebrities and at the same time have a wonderful vacation. Azerbaijan has an ancient history. There is a wonderful audience here. Tasty food, sun and beach have become main features of Zhara festival", said one of the organizers of the event, founder of the Russian Zolotoy Grammofon award Sergei Kozhevnikov.
Kozhevnikov expressed his confidence that the festival will contribute to bringing the Russian and Azerbaijani people and the two countries closer to each other.
Although it will be singer Glukoza's first performance at the festival.
"I am very happy to be in Baku again. I will perform on each day of the festival," she said.
"My friends from Azerbaijan, Russia and Ukraine say that Zhara is a wonderful music festival. Of course, this festival should grow even bigger", said Timur Rodrigez .
The splendid festival is a joint project of Azerbaijani singer Emin Agalarov, honored artist of the Russian Federation Grigory Leps and founder of the Russian radio award "Golden gramophone", Sergey Kozhevnikov.
The second day of the festival will feature the event timed to the 70th anniversary of popular singer Sofia Rotaru, to be enriched with brilliant performances of Polad Bulbuloglu, EMIN, Timur Rodriguez, Potap and Nastya, Artik & Asti, LOBODA, Slava, Ani Lorak, AISEL etc.
The astonishing news for music lovers was the joining of Russia's famous singer Alla Pugacheva to the festival.
Indeed, it was a great surprise for all her fans in Baku, but that's not all -- the evening of the great singer will be on July 29.
Filipp Kirkorov, Alessandro Safina, Laima Vaikule, Stas Mikhailov, A'studio, Dima Bilan, Kristina Orbakaite, LOBODA, Grigory Leps, Valery Meladze, EMIN, Ani Lorak, Oleg Gazmanov, Diana Arbenina, Nigar Jamal, Aleksandr Panayotov and others will also mesmerize the Baku audience.
The annual music festival "ZHARA" was held for the first time in 2016 and immediately received the status of the most anticipated and extensively summer events. Considering the size of the audience, summer festival has become the largest music event in the CIS countries.
---
Laman Ismayilova is AzerNews' staff journalist, follow her on Twitter: @Lam_Ismayilova
Follow us on Twitter @AzerNewsAz