19 July 2016 16:27 (UTC+04:00)
1 716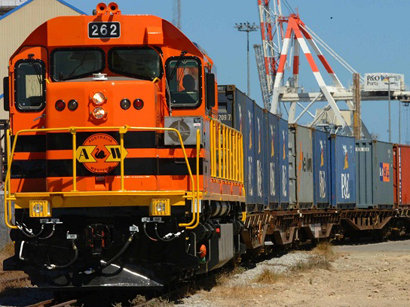 By Nigar Abbasova
Azerbaijan has recently introduced certain changes to the Tax Code to exempt the vehicles of foreign states from road tax and state fee. The changes are aimed at facilitation of transportation of freight through the territory of Azerbaijan.
Azerbaijan Cabinet of Ministers has approved the relevant rules, which apply to foreign vehicles carrying freight to Iran and Turkey as well as from Iran and Turkey through Azerbaijan on condition of transportation through the territory of Azerbaijan via railways. The changes will be applied to trucks, trailers and semi-trailers of foreign states and be in effect for three years.
The changes are expected to increase cargo transportation through the territory of the country. The measures that are taken by the government are considered to be an important step for creating conditions for the expansion of cooperation opportunities in the field of transport, increasing the volumes of transit cargo as well as gaining more revenues from the sector.
The changes envisage that the tax exemption is applied should the freight is unloaded to the vehicle registered in the foreign country in the territory of Azerbaijan and directed to the nearest customs border enter point or the cargo is brought in to the territory of the country by means of the vehicles registered abroad through the nearest border entry point.
The country is currently engaged in facilitation of cargo transportation through its territory. The state has recently introduced a number of reforms in the sphere of transport. Drop in energy prices have given a stimulus to Azerbaijan's long-running quest to diversify its economy and develop its non-oil sector. In this regard, the country has placed a particular importance on the transport sector and focused on gaining profit from its favorable geographic location between East and West by means of developing its transportation potential.
Previously the road tax was defined on the basis of length of stay of the vehicle in the country as well as on the volume of freight.
Tax exemption is expected to turn the country into stable and reliable partner for companies engaged in freight transportation.
Earlier, head of the State Customs Committee Aydin Aliyev, highlighting the issue said that the exemption of freight vehicles from the road tax will not influence the amount of revenues to the state budget. He explained this with the low number of annual multimodal transportation in Azerbaijan and poor revenues from the taxation of this sphere in the previous years.
"We expect that the exemption from the road tax will not influence the revenues to the state budget and instead lead to the growth in cargo transportation. The main objective of the decision is making the country more attractive for the freight transportation," he added.
--
Nigar Abbasova is AzerNews' staff journalist, follow her on Twitter: @nigyar_abbasova
Follow us on Twitter @AzerNewsAz
Related News