Baku, Tehran mull prospects of cooperation in agrarian sector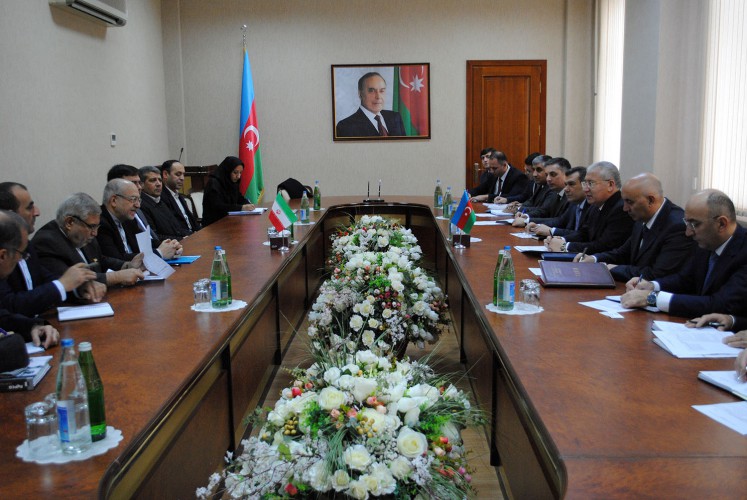 By Sara Rajabova
As part of efforts to continue the recent close interactions and successful cooperation between Iran and Azerbaijan, the two countries are expanding bilateral ties in various fields.
Azerbaijani and Iranian officials have discussed the prospects of bilateral beneficial cooperation during the Iranian delegation's visit to Azerbaijan led by Iranian Minister of Industry, Mines and Trade Mohammad Reza Nematzadeh.
Azerbaijan`s Minister of Emergency Situations Kamaladdin Heydarov met the Iranian delegation on November 27, AzerTag news agency reported.
Referring to the negotiations and documents signed on cooperation in a variety of fields as part of the reciprocal visits of Azerbaijani President Ilham Aliyev and Iranian President Hassan Rouhani, Heydarov said they laid the foundation for opening a new page in the development of bilateral relations.
Nematzadeh, for his part, said there were wide prospects of bilateral beneficial cooperation between the two countries` ministries in the mining industry sphere.
On the same day, Azerbaijan`s Agriculture Minister Heydar Asadov met the Iranian delegation to discuss prospects of cooperation between the two countries in the fields of food and agriculture.
Recalling the last meetings of the two countries` presidents, Asadov added that this would contribute to boosting bilateral cooperation in all fields, including agricultural sphere.
He hailed the development of relations between the two countries, noting that the Ministry of Agriculture was interested in developing cooperation with Iran in the agrarian sphere.
Nematzadeh, for his turn, said Iran attaches great importance to expanding relations with Azerbaijan in a variety of fields, adding he would spare no efforts to strengthening cooperation between the two countries even further. He invited the Azerbaijani Minister to visit Iran.
Iranian Ambassador to Azerbaijan Mohsun Pakayin was also present at the meetings.
Iran and Azerbaijan have had diplomatic relations since 1918. Iran recognized Azerbaijan's independence in 1991, and diplomatic relations between the two countries were established in 1992.
Tehran has in recent years focused seriously on development of ties with neighboring countries, including Azerbaijan which enjoys various commonalties with Iran in religious, historical and cultural fields.
The trade turnover between Azerbaijan and Iran stood at $144.045 million in January-September 2014, according to the State Customs Committee (SCC) of Azerbaijan.
In the past nine months, goods worth $115.6 million were imported to Azerbaijan, and the goods exported by the country amounted to $28.45 million.