7 February 2014 09:28 (UTC+04:00)
1 438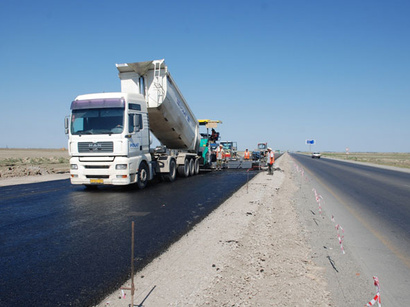 The cost of the road and transport complex development in Azerbaijan totaled 8.2 billion manats between 2004 and 2013, Transport Minister Ziya Mammadov said at a conference held under the chairmanship of President Ilham Aliyev.
The conference was dedicated to the implementation of two state programs on socio-economic development of Azerbaijan's regions in 2004-2008 and 2009-2013 respectively.
Mammadov said during this period a total of 8,332 kilometers of roads were built and repaired. Some 2,622 kilometers were roads of national importance, and 5,710 kilometers of local importance.
Some 222 bridges and overpasses were built and 85 bridges were repaired during the reporting period, according to the minister.
Also, over 400 kilometers of railway tracks were repaired, four airports were built and two airports repaired, as well as new aircraft purchased.
Between 2004 and 2013, some 16 bus stations were built and nine bus stations were reconstructed, 2,760 medium and large buses, and 1,800 cars (taxis) were also purchased.
Related News