Construction of major highways in Azerbaijan to be completed in 2015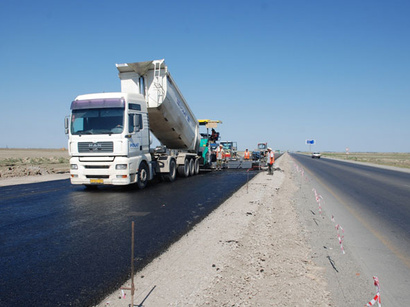 By Nigar Orujova
Construction, modernization and reconstruction of all major highways in Azerbaijan will be completed in 2015, Deputy Transport Minister Musa Panahov has said.
"Azerbaijan has achieved great results in the area of economic development. In particular, those achievements affected the transport sector of the country. Major transport projects are being implemented in the republic, road and transport infrastructure is being improved and the infrastructure of maritime transport, rail and other sectors is developing," Panahov said at the opening of the 12th International Transport, Transit and Logistics Exhibition (TransCaspian-2013) in Baku on June 13.
Among the major projects implemented by Azerbaijan, Panahov cited the Baku-Tbilisi-Kars railway, which will provide access to Europe and positively affect the growth of the freight and transit potential of both Azerbaijan and the region.
According to Panahov, the increasing number of vehicles requires further road infrastructure improvement.
"The number of vehicles is increasing year-on-year; last year alone, the country imported more than 100,000 vehicles," Panahov said.
Therefore, the reconstruction and expansion of roads will continue.
Earlier, Javid Gurbanov, head of Azeryolservis JSC operating under the Azerbaijani Ministry of Transport, said rehabilitation and construction of roads in Azerbaijan requires some 30-35 billion manats (up to over $44 billion).
The length of the central roads of Baku is 1,500 kilometers, and together with the municipal roads and roads in the capital city of Baku, the figure is up to 5,000 kilometers.
The construction of four road junctions within the reconstruction and development of Ziya Buniyatov Avenue in Baku is expected to finish by the end of 2013.
Moreover, the process of designing the road to be laid in parallel to Heydar Aliyev Avenue as part of the preparations for the inaugural European Olympic Games to be held in Baku in 2015 is nearing completion. The construction work will begin in the near future.