Flydubai celebrates anniversary of its launch in Azerbaijan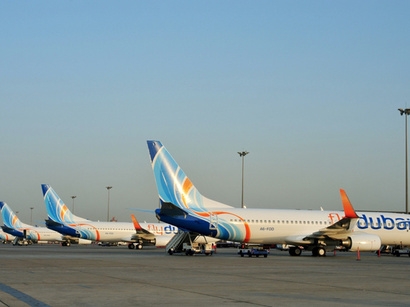 Today flydubai celebrates the 3 year anniversary since launching operations in Baku.
Dubai's innovative airline has established flights to 16 destinations across 11 countries in the CEE and CIS region. It also has the most comprehensive network of all Middle Eastern carriers to this area and is the only scheduled operator flying direct to Dubai from Belgrade, Skopje, Bishkek, Kharkiv, Donetsk and Tbilisi.
Key to the airline's growth has been its strategic approach to drive expansion.Through adding new aircraft and destinations each year, flydubai has opened up previously under-served markets, bringing affordable travel to more people, more often. New figures that highlight its remarkable regional development include:
- Witnessing a 45% year-on-year growth in the total number of flydubai's annual flights to the CIS and CEE markets between October 2011 and September 2012.
- Increasing the number of monthly flights to this market by 109% in September 2012 compared to September 2011.
flydubai's CEO, Ghaith Al Ghaith, said: "More than 40% of our route development this year has taken place in CEE and the CIS. The geographical prioritisation of these market has been key to flydubai's continued growth and highlights our commitment to offering real choice and excellent quality service for passengers while boosting tourism and trade between our regions. flydubai has also been instrumental in increasing air traffic between the UAE and Russia by 85%; and the UAE and Ukraine by 112%."
Offering 58 regular flights per week, flydubai's CEE and CIS network includes Armenia, Azerbaijan, Georgia, Kyrgyzstan, Macedonia, Romania, Russia, Serbia, Turkey, Turkmenistan, and Ukraine providing an array of destinations appealing to the leisure, business travellers and those visiting friends and family.
Elsewhere, flydubai recently announced that flights to Malé, the capital the Maldives will begin in 19 January 2013. The latest addition to flydubai's expanding network has proven particularly popular among travellers from Russia and CIS with figures revealing a 15.7% increase in tourist arrivals in the first quarter of this year compared to the same period in 2011.
In parallel to its expansion plans, flydubai has also grown its fleet to 27 Boeing 737-800 NG aircraft to cater to increasing demand from the business and leisure passengers across its route map. With the January 2012 launch of flydubai Cargo, the carrier has also established an affordable and reliable freight network.