Azerbaijan, Belarus see triple boost of trade turnover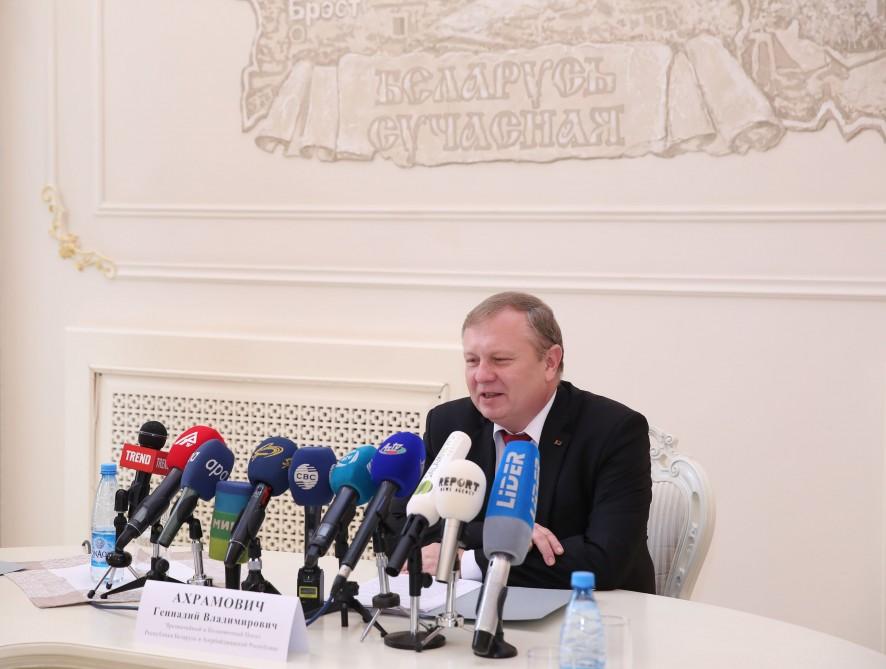 By Mirsaid Ibrahimzade
Due to mutual efforts, the bilateral trade turnover between Azerbaijan and Belarus has grown almost 3 times and reached about $ 0.5 billion in equivalent, Ambassador of Belarus to Azerbaijan Gennady Akhramovich said in an interview with Azertag.
Gennady Akhramovich noted that last year, marked by its 25th anniversary since the establishment of diplomatic relations between Belarus and Azerbaijan, has become very successful for both of the states. Dozens of high-level visits, hundreds of business events and meetings in various fields took place, serious agreements were worked out, an algorithm for further actions was defined in 2018.
"For 2019, Belarus and Azerbaijan have set themselves new tasks to further expand cooperation, identified several specific projects for implementation. This year, in the framework of the reached agreements, we expect a no less intensive level of interaction (meetings, forums, exhibitions, business contacts), as well as active cooperation in all spheres of bilateral relations," the diplomat added.
Overall picture of relations between the two states in the trade and economic sphere shows dynamism. The main priorities of this interaction are industrial cooperation, joint projects in the fields of science and technology, as well as investment cooperation.
Azerbaijani-Belarusian relations have passed the stage of formation and reached a qualitatively new level of a sustainable long-term mutually beneficial partnership, characterized by an open, friendly and trusting character in all areas of mutual interest.
The positive dynamics of relations is determined by active interaction at the highest and high level, wide contacts of government agencies, business circles, and developed humanitarian ties.
Since the embassies were opened in Minsk and Baku, counter-deliveries are made for more than 380 commodity items in mutual trade. Over 45 Azerbaijani companies are dealers and distributors of Belarusian enterprises.
The leader in industrial cooperation is Ganja Automobile Plant, located in the city of Ganja. In just a few years, this enterprise has become a modern industrial complex, which can rightly be called one of the flagships of the Azerbaijani engineering industry. In the period from 2007 to the present, more than 10,000 Belarus tractors have been assembled in Azerbaijan. In addition, another example of industrial cooperation is "Belkommunmash" which will supply four large-capacity E321 electric buses to Azerbaijan to launch a pilot electric bus route in the Ganja city in 2019.
--
Follow us on Twitter @AzerNewsAz