Azerbaijan, Kazakhstan see two-times increase in trade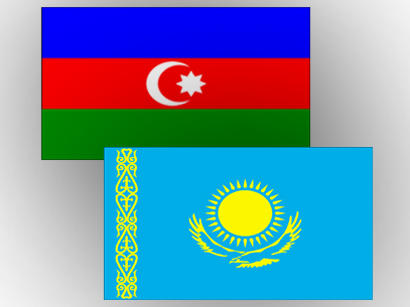 By Narmina Mammadova
Kazakh and Azerbaijani Energy Ministers Kanat Bozumbayev and Parviz Shahbazov noted an increase in trade turnover between the two countries, Kazinform reported on October 31.
"The trade turnover for eight months between Kazakhstan and Azerbaijan increased by 2.1 times compared to last year. That is about $168 million. In 2017, an instruction was given to double the turnover in the next 2-3 years. But we assume that if such trends continue, then we will have to complete the task of doubling the turnover prematurely, before the end of the year. It is important that the Azerbaijani side, at our request, has resumed purchases of Kazakh grain. This also gave rise to a turnover," Bozumbayev said before the 15th meeting of the Kazakhstan-Azerbaijan Intergovernmental Commission on Economic Cooperation.
Exports have more than doubled and imports have grown by about 75-76 percent for eight months, he stated.
"The Azerbaijani side supplies metal structures, ferrous metal products, pipes, and so on, which is used in the west of the country when conducting oil operations and upgrading the Tengiz field. We, in turn, supply agricultural, engineering and petroleum products. Now there is a discussion on the part of the railways about the supply of cars and locomotives, but with pre-export financing," the minister explained.
Parviz Shahbazov also expressed his opinion on the results of cooperation for the current period.
"Over the past period of 2018 there was a serious increase in trade turnover. We have such a wide range of mutual cooperation covering a lot of areas - economics, culture, humanitarian issues, that it is very difficult to answer this question unequivocally. We have multilateral cooperation on almost all issues," he said.
"Today is the 15th meeting of our intergovernmental commission, where we will summarize the results of the past year. We have a very lengthy and informative draft document that we are going to sign today. And I believe that we will do even more work in continuation of our work last year within the framework of the roadmap," Parviz Shahbazov added.
Azerbaijan and Kazakhstan are both Turkic countries and share close historical, religious and cultural ties. Azerbaijan and Kazakhstan strive to strengthen partnerships and mutually beneficial relations for the benefit of their peoples and countries, to expand the potential of economic integration and development of the entire Eurasian region.
Countires are interested in intensification of cooperation in many areas, particularly logistics and infrastructure today. Azerbaijan and Kazakhstan, being the Caspian littoral states, are a natural bridge connecting the West and the East. Thus, the new stage of the cooperation in the field of transport, energy and trade opens another door for Europe to the East.
At the same time, the partnership between two states is not limited to trade issues. The accession of Kazakhstan to the Baku-Tbilisi-Ceyhan oil pipeline in 2006 opens up broad prospects for the states to strengthen their positions both at the regional level and in the international arena.
---
Follow us on Twitter @AzerNewsAz