New VP of Azerbaijan Banks Association appointed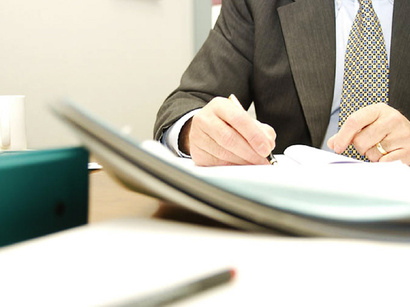 By Trend
A new vice-president of the Azerbaijan Banks Association (ABA) has been appointed, the association said in a message.
The decision on the appointment was made during the meeting of the ABA Presidium in an expanded format.
Khalid Ahadov, who was ABA vice-president, was replaced by Acting Chairman of the Board of International Bank of Azerbaijan Abbas Ibrahimov.
During the meeting, an appropriate Working Group was established to develop proposals on the part of banks to improve the financial intermediation capacity of banks.
The chairman of the Expert Group on Risk Management was also appointed at the meeting.
Deputy Chairman of the Board of the International Bank of Azerbaijan Agshin Amirov was appointed as chairman of the expert group.
The purpose of creating the expert group is to study new challenges and best practices in risk management, study the possibilities of applying this experience in Azerbaijan's banking system, strengthen mutual cooperation with regulatory and supervisory bodies, etc..
In addition, the chairman of the Expert Group on Trade and Projects Financing was appointed. The purpose of the group is to analyze the compliance of Azerbaijani legislation on letters of credit, guarantees, encashment and other transactions with the requirements of international law, discuss potential problems in the field of the mentioned banking services.
The group also has to investigate the possibility of applying international standards in this area and provide relevant proposals during amending the regulatory acts by the bodies that regulate banking activities in Azerbaijan, etc..
Yasin Jalilov, the director of the corporate business development department of VTB Bank (Azerbaijan) OJSC, has been appointed chairman of the expert group.
---
Follow us on Twitter @AzerNewsAz