13 September 2016 13:02 (UTC+04:00)
25 415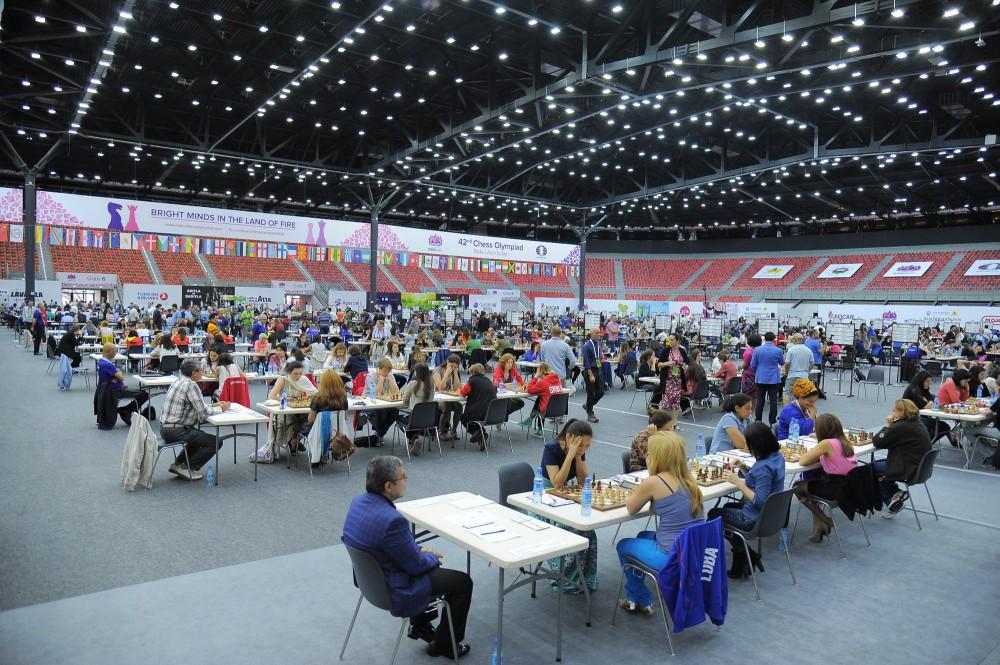 USA and Ukraine have continued the victorious ways to enter the final round tied on the first place with 18 points each.
USA defeated Georgia 2,5-1,5 despite the loss of Nakamura to Mchedlishvili. Wesley So and Shankland secured the win for the team.
Ukraine downed the solid Czech Republic 3-1. Eljanov emerged on 50% individual score by beating Navara, while Volokitin defeated Babula to accumulate incredible 7,5/8 points so far.
India effectively ruined Russia's gold dream by holding them to a tie. Harikrishna beat world championship challenger Karjakin, and Kramnik defeated Adhiban.
England narrowly defeated Azerbaijan 2,5-1,5. Jones and Short won against Naiditsch and Safarli respectively, Mamedov won against Howell, and Adams drew Mamedyarov.
Canada propelled itself to the top table by beating Latvia 3-1. Shirov won against Bareev, but on the lower boards Kovalyov, Lesiege and Hansen turned the score.
Norway scored heavily against Iran 3,5-0,5, while Greece still remained undefeated after playing 2-2 with Spain.
Azerbaijan 2 split the points with Serbia. Durarbayli won, Abasov and Guseinov drew, and Guliyev lost.
Azerbaijan 3 crushed Japan 4-0, with the wins of Asadli, Bashirli, Gadimbayli and Gasimov.
Top rounds 11 pairings are USA-Canada, Ukraine-Slovenia, Russia-Italy, Turkmenistan-Azerbaijan, India-Norway.
In the Women section China is one step from reclaiming the gold medal, last won in Calvia 2004, after beating Poland 2,5-1,5 in the penultimate round.
Zawadzka won for Poland, but that was not enough as Hou Yifan and Tan Zhongyi tipped the balance in China's favor. China is on 18 match points, two more than Russia, against whom they are paired in the last round. In the previous three Olympiads China was silver, each time behind Russia.
India and Ukraine played a tie, with one win for each side, by Sachdev and Ushenina respectively.
Russia defeated Georgia 2,5-1,5 thanks to the effort of Kosteniuk and Gunina on the top two boards. Batsiashvili scored the sole win for Georgia.
Azerbaijan beat Colombia 3-1, with wins by Mammadzada, Mammadova and Kazimova, and a loss of Hojjatova.
Mongolia held USA to a tie, while Hungary and Bulgaria narrowly defeated France and Germany respectively.
Azerbaijan 2 walked past Switzerland 3,5-0,5, and Azerbaijan 3 narrowly lost to Belarus 1,5-2,5.
Top round 11 pairings are China-Russia, Hungary-Poland, Ukraine-Bulgaria, Azerbaijan-Malaysia, USA-India.
--
Category News