28 April 2015 15:49 (UTC+04:00)
2 510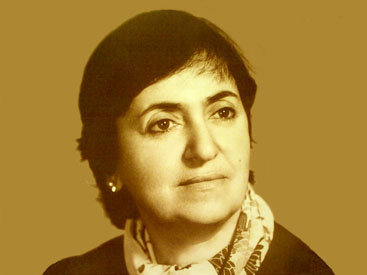 By Amina Nazarli
April 28 marks the birthday of Zarifa Aliyeva, an outstanding scientist, wife of national leader Heydar Aliyev, and mother to Azerbaijani President Ilham Aliyev.
A prominent ophthalmologist and academician Zarifa Aliyeva was also a beautiful, kind, compassionate person, a mother and a wife, a fierce nationalist and a kind soul.
An inspiration for many, Zarifa Aliyeva remains a cherished national emblem, a symbol for Azerbaijan's aspirations of greatness.
Aliyeva was born in an ancient region of Azerbaijan - Nakhchivan in 1923.
Born and raised in a family of prominent statesman Aziz Aliyev, Zarifa Aliyeva absorbed all the rich values of her family.
Her great interest in public health led her to the Azerbaijan Medical Institute in 1942, from where she graduated with an honors diploma.
It is in these years that she met Heydar Aliyev, a young promising officer, who would soon rise through the ranks to become the head department at the State Security Committee (KGB) and later lead Azerbaijan.
Their love story remains an inspiration for many as the two had to overcome many obstacles due to harsh political realities.
Despite all hindrances they married in 1948.
Zarifa and Heydar Aliyevs led an exemplary family life. They had two children -- Sevil and Ilham.
Zarifa was a great women who could balance in between her family and her career.
She was a good wife to her husband, a caring mother to her children, and a prominent scientist.
Thanks to her fruitful activities and merits she left an indelible mark in the history of public health.
In 1960s a pandemic trachoma disease, accompanied by inflammation swollen eyes and blindness in Azerbaijan's Kura-Aras area caused a lot of suffering to the people. Many families in several villages got ill from this terrible disease. It seemed that the grave disease victims, who were preliminary cotton farmers and fishermen were doomed to blindness and suffering.
However, aid came in time. The government sent medical troopers, and groups of doctors to the region to start treating patients. Young ophthalmologist Aliyeva led one of this aid groups.
Collecting a wealth of factual material on the prevention of trachoma, Aliyeva, without fear of contracting the disease herself, traveled great distances to reach those patients who could not travel.
Despite many difficulties, Aliyeva made great strides in a very short time. She applied antibiotic treatment methods developed by herself to treat patients and her efforts were rewarded.
Today, thousands of people have attained health thanks to her scientific discovery.
She was one of the first doctors in the Soviet Union to begin developing new scientific breakthrough and studies. A well-known ophthalmologist, academician Nesterov called her work a "valuable exemplary work."
She was also an author. She penned 12 monographs, textbooks and teaching aids, and put her name to over 150 scientific works. Being a professional doctor, Aliyeva shared her skills with other doctors with great enthusiasm. Moscow Ophthalmology School described her as a "pearl of ophthalmology."
Aliyeva knew how to be kind to the sick and later wrote about her experience: "The correct attitude to a patient is the essence of the medical profession... The daily duty of a doctor requires, first of all, appropriate treatment to patients."
She was really a rare women, one which name is now part of history.
She was a very intelligent woman with many talents. Zarifa Aliyeva loved music and was highly skilled on playing the piano.
She paid great attention and respect for the arts and was a connoisseur of national and world classic music, inveterate theater-goer, and an art connoisseur.
Zarifa Aliyeva gained the love of millions of compatriots with her intelligence, beauty, and grace. With a deep sense of devotion to her family and country, she dedicated herself to raising her children and to making the world a better place through her efforts in medicine, respect for history and public service.
She died in the 62nd spring of her life in Moscow after cancer claimed her light.
--
Amina Nazarli is AzerNews' staff journalist, follow her on Twitter: @amina_nazarli

Follow us on Twitter @AzerNewsAz
Category News