Prehistoric sites to visit in Tovuz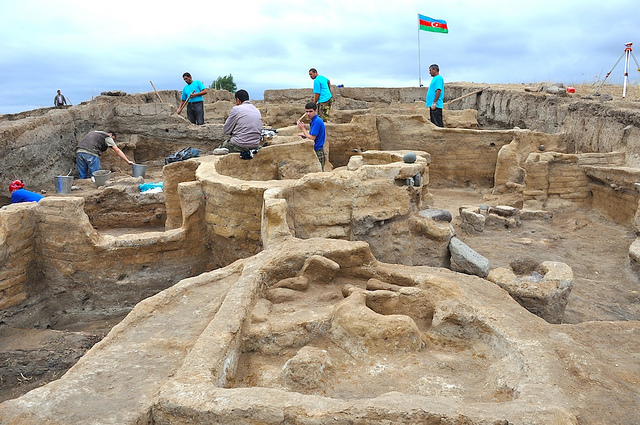 By Nigar Orujova
Azerbaijan's ancient history is a source of great pride. People coming to the country are always captivated by breathtaking history of the Land of Fire -- its earthshaking, bone shattering grand battles, its tales of selfless heroism and incomparable bravery, its people's resilience before oppression and a rich culture and heritage which stretch across the centuries and millennia.
This is what is attracting tourists to Azerbaijan.
In the near future, the country will present yet another archaeological park - located in the western Tovuz region.
The archaeological site of the Neolithic period Goytapa is the biggest settlement relating to the early Neolithic period in Azerbaijan and South Caucasus.
The settlement which covers an area of more than 2 hectares, was discovered in 2006 by an archaeological expedition of the Azerbaijani Archaeology and Ethnography Institute, the National Academy of Sciences and French experts.
A radiocarbon analyses at the site revealed that the Goytapa settlement dates back to the sixth millennium BC. This means that Tovuz has a history of urban culture dating back eight millennia.
The settlement's exceptional importance consists in studying the main features of development processes in the region during the Neolithic period. Scientists have already explored construction techniques and social structure - way of life - during period.
Archaeological sites such as Goytapa are internationally believed to be the starting point of primary civilization, the period, when primary urban culture started to emerge and people began to live in compact settlements.
The detected samples made clear, that Tovuz is one of the oldest settlements in the Caucasus.
Goytapa monument was already presented at the University of Tokyo, the British Museum, the College-de-France, the Russian Institute of Archaeology and at the National Museum of the History of Georgia.
Located on the tourist route, the site will soon be available for tourists interested in studying and witnessing the early gleams of civilization as we know it, in an open-air museum.
Tovuz is famous for its ancient sites - another prehistoric monument, the oldest one in the region, was discovered here in 2014.
The settlement in the Haji Alemkhanli village dates from the end of the seventh millennium BC.
The archaeological work conducted by Azerbaijani and Japanese archaeologists, established that this monument is the oldest settlement in the region where early sedentary tribes lived.
After all the necessary scientific works, this place may also be presented to tourists. By now, specialists intend to appeal to the UNESCO to include their findings into the World Heritage List.
There are an additional 64 historical-cultural and archaeological monuments in the Tovuz region.
--
Nigar Orujova is AzerNews's staff journalist, follow her on Twitter: @o_nigar
Follow us on Twitter @AzerNewsAz