18 July 2018 11:35 (UTC+04:00)
2 738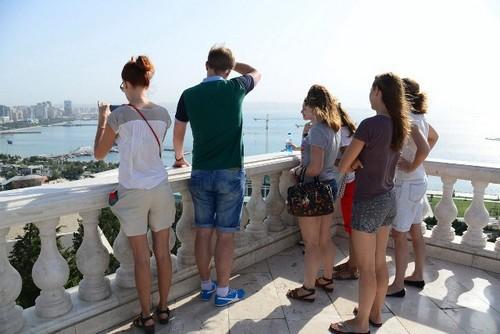 By Arzu Abdullayeva
Azerbaijan attracts more and more tourists, which is not a surprise, since concentration of historical heritage, fascinating nature, and delicious cuisine draws everyone to pay a visit.
The Land of Fire as it is called here welcomed a jump in tourism during the first half of 2018, with 1,325 million overseas tourists visiting the country, making it 10.2 percent more compared to last year according to new figures released by the State Border Service on Tuesday.
Over, 68 percent of visitors coming from 189 countries were men, and 31 percent were women. More than 59 percent of foreigners used rail and road transport, 39.2 percent - by air, and 0.9 percent reached the country by sea.
The State Statistics Committee reported that 30.5 percent of the arrivals were made by Russian citizens, 21.1 percent by Georgia, 11.1 percent by Iran, 10.8 percent by Turkey, 2 percent by Ukraine, 18.7 percent - citizens of other countries.
In January- June of this year, the growth of people visiting Azerbaijan from the Persian Gulf countries (except for Iran) was observed most. Compared with January-June last year, the number of Kuwaiti nationals who arrived in the country increased by 5.1 times, citizens of Bahrain - by 2.6 times, citizens of Qatar - 2.1, citizens of Saudi Arabia by 3.5 times, citizens of Oman - by 1.6 times, citizens of Iraq - 1.6 times, citizens of the United Arab Emirates - by 1.2 times. The number of arrivals from Iraq decreased by whopping 44.3 percent, the UAE by 8.8 percent.
During this period of 2018, overseas visits from EU member states grew by 6.3 percent and amounted to 53,500 people, the number of arrivals from CIS countries increased by 7.5 percent and amounted to 478,300 people.
The number of incoming tourists from Arab countries is being observed most. Due to the recent economic processes, tourists from the United Arab Emirates began to prefer relatively cheaper routes. The Gulf country tourists, which once used to splurge fortune in European countries began to favor Azerbaijan.
Reasons gravitating Arabs towards the country are miscellaneous including infrastructure, improving service sector, similarities in culture, and the stream is rapidly growing as a result of strengthening the promotion strategy, simplifying visa regime as of 2015 for the citizens of these countries as well as propagandizing Azerbaijan in various tourism exhibitions.
Taking into consideration coming arrivals, Azerbaijan Airlines had already discussed the organization of direct flights. In addition, the Kuwait-based Jazeera Airways has launched direct flights to Eurasia as of 2017, starting with Baku, Azerbaijan as the first destination.
However, the country's tourism is not oriented only on Arab tourists. New and attractive markets for the country are India, Pakistan and, especially China.
"If we can attract tourists from China, we will get a great stream," said Azerbaijan Tourism Association Chairman Nahid Bagirov. "Chinese tourists need qualified Chinese speaking guides to provide services"
In order to fully promote the development of cooperation in the field of tourism, actively support initiatives aimed at the effective development of tourist resources of Azerbaijan and China, contribute to the formation of a common tourist area, cooperation agreement was signed by Confucius Institute and Azerbaijan Tourism Association. Moreover, conditions for the active use of the natural and cultural heritage of the sides will also be created.
The cooperation between China and Azerbaijan greatly contributes to the realization of the Great Silk road, starting in Japan and China and stretching up to Europe cutting through India, Afghanistan, Iran, Central Asia, Caucasus, Asia Minor, and Northern Africa.
China became Azerbaijan's 4th largest trading partner in 2017. Customs data of Azerbaijan estimated bilateral trade at a record close to $1.3 billion in 2017, up 33 percent from the previous year.
The boom in overseas tourists has continued since the city hosted numerous international sporting events with cafes, hotels and attractions benefiting most.
---
Follow us on Twitter @AzerNewsAz
Category News