Ancient and majestic Nakhchivan [PHOTO]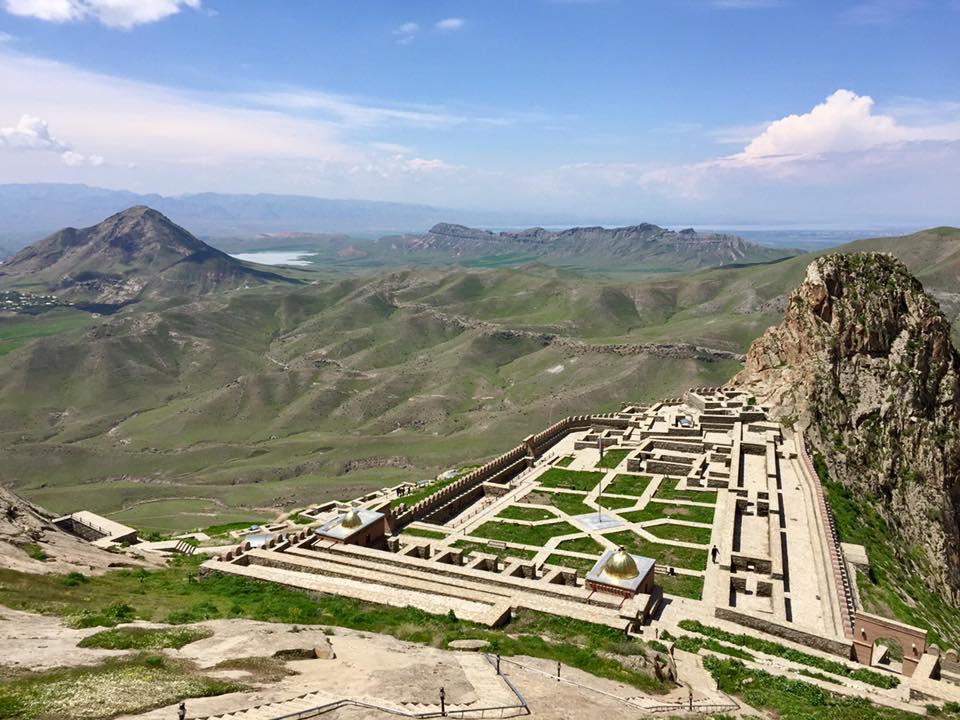 By Rashid Shirinov
If you take a look at the map of Azerbaijan, you may notice a land set apart from the main portion – an exclave located in the south-west of the country. That is one of the most ancient and gorgeous regions of Azerbaijan – Nakhchivan.
For its long history, Nakhchivan has been endlessly admired by different travelers and poets of the past, being mentioned as one of the most magnificent and prosperous cities of the East. Nowadays, the city continues to attract foreign and local visitors due to its numerous monuments reflecting different stages of the Azerbaijani history. Numerous mosques, mausoleums, ancient bridges, tombs, palaces and many other historical landmarks will surely impress every tourist coming to Nakhchivan.
This magnificent region of Azerbaijan has an area of 5,500 square kilometers with a population of around 450,000 residents. Nakhchivan is famous for its mountains – nearly 75 percent of its territory is located at a height of 1,000 meters and above. The Daralagoz and Zangezur mountain ranges are considered to be the most majestic of them, while the highest peak of Nakhchivan is mount Kapudzhukh reaching 3,904 meters in height.
In view of being an exclave, Nakhchivan borders as many as three countries: Iran, Armenia and Turkey. The Zangezur mountains make up its border with Armenia while the Araz river embraces Nakhchivan from south and west, separating it from the Iranian lands.
Its capital, Nakhchivan City, situated on the Nakhchivan River, is one of the most ancient cities of Azerbaijan. Reliable sources state that Nakhchivan City was founded in around 1,500 BC. However, a folk legend says the city takes its beginning from Noah's time, and Noah himself laid the foundation of the city after the Great Flood. The republic's name apparently comes from this legend, saying Nakhchivan is a contraction of Nukkhtchikhan, the "Colony of Noah". There is a wonderful Noah's Mausoleum preserved in the southern part of the city.
One of the most amazing monuments of Nakhchivan's culture is the Mausoleum of Momina Khatun, built in 1186 for the honor of wife of the founder of Azerbaijani Atabaylar state, Shamsaddin Eldaniz. Her tomb is considered one of the most magnificent monuments of the Azerbaijani and the entire Oriental architecture. Having total height of 34 meters, the tomb consists of the surface and underground parts. There are four round medallions with the names of the caliphs inside the dome of the monument. On the head of the tomb, these wise words are written: "We are going, and only wind is left. We die, and only the work is kept."
Apparently, the most mysterious landmark of Nakhchivan is Ashabi Kahf (means the "cave people" in Arabic), which is 12 kilometers far away from Nakhchivan city, between two mountains. There are also places of the same name in Asia Minor and Palestine, and it was mentioned in ancient religious books, including Koran. According to its Kahf (Cave) surah, the youth who wanted to get rid of the prosecution entered the cave together with a dog. Allah made them sleep, and then woke them up more than 300 years later. The legend spread in Nakhchivan has approximately the same sense. After restoration, Ashabi Kahf, having favorable conditions and several mosques, is always ready to receive pilgrims and tourists.
The Khan Palace is another great historical monument of Nakhchivan. It was built in the 18th century in Eastern architectural style, and served as the residence of the Nakhchivan khans up to the beginning of the 20th century. The palace was constructed by Kalbali khan Kangarli, father of the last Nakhchivani khan Ehsan. It covers an enormous area of 3,600 square meters and consists of a subsidiary building, pool, a water well, a strip of greenness, and numerous decorative and fruit trees, which should definitely be visited by every tourist.
The most useful attraction of Nakhchivan is the therapeutic salt caves of mount Duzdag located at a height of 1,173 meters above the sea level and a clinic adjacent to it. After visiting it, people suffering from respiratory disease find great results of their treatment. The clinic itself consists of two parts: above ground and underground parts. The first one is placed in Duzdag Hotel, and the second part is right in the mountain, down to a depth of 300 meters!
Nakhchivan has beautiful nature, which includes thousands of flora and fauna representatives. It is obvious that there was a need for some area to conserve all this wealth. Right for this purpose, Shahbuz State Natural Reserve was established here on July 16, 2003.
More than 2,000 species of higher plants can be found in this lovely reserve. They include numerous oak trees, juniper, hawthorn, apple, plum, pear, trees of bitter almond and much more. The reserve is also rich in decoration plants – endemic species of iris, fragrant tulips, aromatic species of wild carnation and others can be found in the mountains and the eastern lowland areas of the Shahbuz Reserve.
Nakhchivan is also rich in fauna – 217 of 366 bird species registered in Azerbaijan can be found here. These are European partridge, singing Silvia, oriole, nightingale, wood cock, hop-hop and others, all of which can be found in the Shahbuz Reserve. Moreover, 15 names of species are listed in the Red Book.
As for wild animals, there are brown bear, wolf, fox, wild cat, forest mouse, badger, wild boar, lynx and a number of other rare animals living in Nakhchivan. Rodent mammals are also wide spread in this lovely region.
Just like in entire Azerbaijan, cuisine in Nakhchivan is extremely diverse and delicious. The dishes of Nakhchivan influenced to the dishes of neighbour countries for their richness and unparalleled taste. So, Nakhchivani cuisine encompasses delicious gutab, dolma, bozartma, khash, parcha bozbash, plov, variety of kababs (lula, tika, basdirma, tava, sajichi) and many more! In general, almost every Nakhchivani meal includes meat – that has become the centuries-long feature of the entire Azerbaijani cousine.
Nakhchivan is also rich in milky drinks – milk porridge, bulama, gatigashi, gatiglama, dovgha, ayranashi, gurutashi and others occupy a very special place in the Nakhchivani cuisine.
Of course, every meal taking is followed by drinking tea in Nakhchivan. Tea is often served in armudu glasses along with various sweets and jams, including most tasty pakhlava, shakarbura, different cakes, bukma and others.
Let's now come to the matter of arriving to this majestic region of Azerbaijan. The best way to get to Nakhchivan is to fly from Baku to Nakhchivan Airport that is in the vicinity of the exclave's capital. The flights are carried out about 3-6 times a day depending on demand, and will take just around a hour.
Another way to visit Nakhchivan is coming by land, through the borders with Iran and Turkey. Moreover, trains running from Tabriz (Iran) also can deliver you there.
Nakhchivan has a significantly developed hotels infrastructure – they are widely spread throughout the region. The prices are quite moderate and even cheap. İf you have some finance problems – that's not a problem at all. Many cheap hostels can also be found in Nakhchivan. Hospitable local people can even shelter you for a while with no charge!
You can endlessly travel and study Nakhchivan, but you will discover something new every time. Each day you spend in this lovely region will remain in your mind as an unforgettable memory and will be a bright page in the life of every tourists visiting Nakhchivan.
---
Rashid Shirinov is AzerNews' staff journalist, follow him on Twitter: @RashidShirinov
Follow us on Twitter @AzerNewsAz