18 December 2015 14:09 (UTC+04:00)
1 212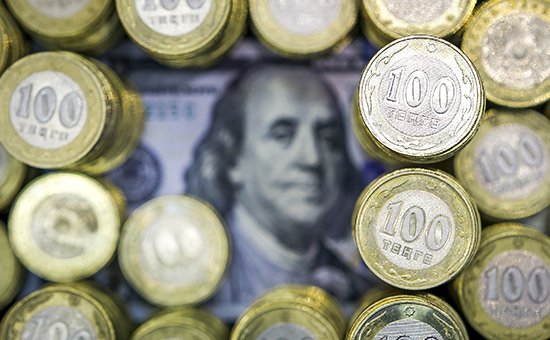 By Laman Sadigova
Kazakhstan's tenge, the world's worst-performing currency of 2015 according to Bloomberg, dropped to a new historic low of 341.94 tenges per dollar on December 18.
No trading was carried out on December 16 and 17 as the country was celebrating the Day of Independence.
The exchange rate of tenge decreased from 311.92 tenges to 337.80 tenges per dollar on December 14-15.
"The tenge is in free float and the worsening external economic conditions lead to increased demand for dollars from businesses and the population," Damir Seisebayev, head of research at Private Asset Management in Almaty said. "In the near term, oil will probably continue to fall and that will affect the tenge."
In early November, President Nursultan Nazarbayev dismissed the head of the National Bank Kairat Kelimbetov, explaining it with an unacceptable fall in the level of confidence in the national currency. A few days after the official dollar rate exceeded 300 tenge.
The exchange rate of Kazakh currency has halved since July. Its exchange rate was 186 tenge per dollar in July and 154.06 tenge per U.S .dollar in early 2014.
Later, Kazakhstan, the largest oil producer among former Soviet republics after Russia, shifted to a floating exchange rate in August hit by tumbling crude prices and devaluations in Russia and China. As well as the pressure from the weak ruble, decreased by depressed oil prices and Western sanctions, the tenge has also been under the cash from declines in other currencies in the region.
Kazakhstan's central bank had devalued the tenge three times since 1999 - most recently by 19 percent in February last year.
---
Follow Laman Sadigova on Twitter: @s_laman93
Follow us on Twitter @AzerNewsAz
Related News