Iran's drought becoming severe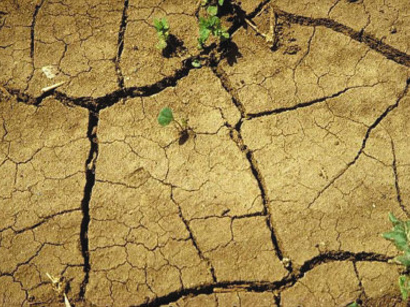 By Sara Rajabova
The drought in Iran has become one of the most important problems in the country which is experiencing a range of drastic ecological and environmental problems needing to be urgently addressed.
The problem has severed as about 67 percent of Iranian wetlands' area is dried, according to Masoud Bagherzadeh Karimi, Deputy Head of Iran's environment protection organization.
He said the country's wetlands' total area was about three million hectares and now only 33 percent of the lands remain intact, ILNA news agency reported on February 17.
Excessive dam reservoirs' construction is the main reason behind drying of the wetlands, Bagherzadeh Karimi said, adding the precipitation decrease and temperature rise also intensified the crisis.
Iran is located in an arid zone and the country faces a serious water shortage crisis over the past several years. The government has taken some measures to get out of the current ecological situation however it has been unable to address the problem so far.
"In the most pessimistic condition we are allowed to use only 50 percent of water sources from nature, whereas now it amounts to 90 percent," said Bagherzadeh Karimi.
He added that they have no choice, but returning the nature's share of water to resolve the crisis.
Drought causes many problems for population, as the dust storms are frequently observed in those areas. Besides, the water shortage problem further complicates the daily life of the people. However, many experts believe that the current water shortage problem is a result of water resources mismanagement, rather than the drought.
Iran's total annual water consumption is approximately 93 billion cubic meters, out of which about 92 percent is used in agriculture (86 billion cubic meters), 6.6 percent in municipality (6.18 billion cubic meters), and 1.2 percent in industry (1.12 billion cubic meters), according to the United Nations Food and Agriculture Organization.
Up to 70 percent of water used in the agriculture sector is being wasted, Iranian officials say.
Earlier, the drought triggered protests in some Iranian provinces. The problem has become so serious that in certain areas of the country, citizens have been demonstrating and protesting to express their concerns.
Thousands of residents of Esfahan and the smaller cities and villages nearby held a demonstration near Zayanderood River in late August, holding placards, protesting the drying up of Zayanderood and officials not paying proper attention to this issue.
Zayanderood is the biggest river of the central Iranian plateau.After 14 consecutive years of drought, climate change and mismanagement, parts of the river in areas near Esfahan have turned into a dry riverbed.
In March 2013, a group of farmers staged a demonstration protesting the drying up of Zayanderood.
Last June, a group of residents of East and West Azerbaijan provinces held a similar demonstration protesting the drying up of Lake Urmia, which is the third largest salt water lake on earth, which has 6,000 square kilometers surface.Over 70 percent of Lake Urmia's water has dried up. The level of water has been declining since 1995.
The government has plans to diminish water consumption in the agriculture sector from 92 percent to 87 percent. But this requires a wide scale overhaul of the country's irrigation system in addition to publicity. The government says that lowering water consumption in agriculture will help improve water supplies in cities and villages. Iran currently needs long term solutions that go beyond conservation if it wants to restore its resources.
However, experts on environmental issues say that the measures taken by the Iranian government are not enough to save the lake.
--
Sara Rajabova is AzerNews' staff journalist, follow her on Twitter: @SaraRajabova

Follow us on Twitter @AzerNewsAz