23 December 2014 18:59 (UTC+04:00)
1 609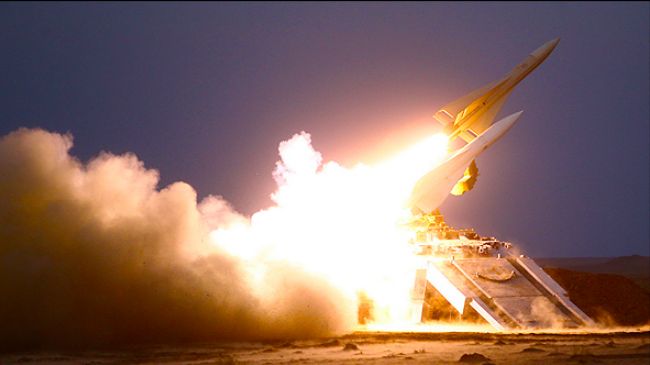 By Sara Rajabova
Iran's armed forces plans to hold six-day military exercises beginning from December 25.
Iran's Navy Commander Rear Admiral Habibollah Sayyari said the Iranian Armed Forces will stage a massive maneuver backed by Khatam al-Anbia Air Defense Base to put on display Iran's military power, Press TV reported.
Sayyari said on December 23 that Iran's capabilities will be displayed in a joint maneuver, named Mohammad Rasoulallah , by the Army's Ground, Naval and Air Forces and with the support of Khatam al-Anbia Air Defense Base.
The military exercises will be held with the motto of displaying power and lasting peace and friendship in line with Muslim and regional unity.
The drill will cover an area of 2.2 million square kilometers from the east of the Strait of Hormuz to the southern parts of the Gulf of Aden.
Sayyari further said the Naval Forces would deploy different types of military equipment and weapons to show Iran's military capabilities in waters.
He also added that various types of warships, destroyers, submarines, missiles, aircraft and helicopters would be used in the drill in a bid to improve the naval forces' power.
Over the past years, Iran has made important breakthroughs in its defense sector, attained self-sufficiency in producing important military equipment and systems and enhanced the preparedness of its forces by holding various drills.
Iran, however, has repeatedly assured other nations, especially regional neighbors, that its military might poses no threat to other countries, insisting that its defense doctrine is merely based on deterrence.
Meanwhile, the Islamic country has warned several "trans-regional" spy planes to stay away from Iranian airspace, ahead of holding a large-scale military exercise, Tasnim news agency reported.
Brigadier General Shahrokh Shahram, Spokesperson for the country's Khatam al-Anbia Air Defense Base said Iran has warned several spy planes with trans-regional powers which were operating near the country's flight information region on December 21-22.
Shahram said some of the warned planes were U-2 spy plane.
The ultra-high altitude aircraft are operated by the U.S. according to media reports.
In August, Iran's Islamic Revolution Guards Corps landed an Israeli spy drone, named Hermers, over the Iranian territory before the unmanned aerial vehicle reached its destination, Natanz nuclear facility in central Iran.
The stealth spy drone was targeted by a surface-to-air missile before it reached the strategic location.
Related News