New patrol boats to protect Kazakh territorial waters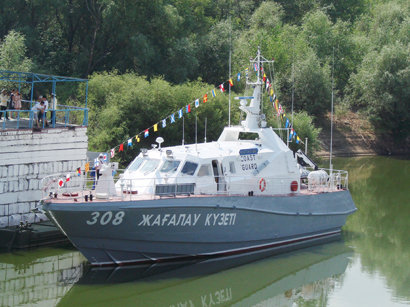 Ural Plant Zenit JSC (subsidiary of " NC "Kazakhstan Engineering" JSC) has unveiled prototype model of the high-speed patrol boat of 0210 "Aybar" .

The company reported that high-speed patrol boat is the 22th boat of the company being manufactured at the state defense order. The new boat is replacing the "Burkit" boat, produced by the plant earlier.

The boat is intended to ensure the protection of state territorial waters of the state border and the continental shelf of Kazakhstan. It is designed for patrolling waters to stop illegal shipping, smuggling, piracy and illegal fishing, interception and inspection of ship-offenders.

The new boat has improved speed, handling, stability, cruising range of previous boats. It has also an installed remote-controlled combat module, which will fully provide the necessary conditions for using weapons.

The boat will be transferred to the Caspian Sea by the Ural River, after which it will undergo a series of tests and then delivered to the customer.

The "Zenith" factory is a shipbuilding enterprise producing modern military boats and ships. The technical and production capacity of the plant meets all requirements of the maritime register of shipping on the implementation of the design, construction, refurbishment, modernization and repair of ships, hull structures, marine equipment.

Ural Plant" Zenith JSC plans to modernize the production process to make special ships and boats with dry weight of about 600 tonnes. It is part of an investment project called the "Development of marine shipbuilding".