Iran's uranium enrichment right can not be limited: Abbas Araqchi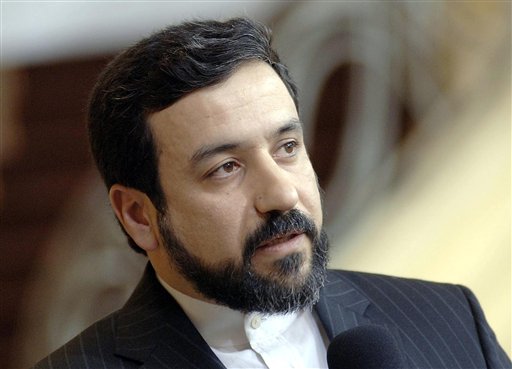 Iran's right for uranium enrichment is secured by NPT (Non-Proliferation Treaty) and cannot be discussed by other countries.
Iranian deputy foreign minister for legal and international affairs and top nuclear negotiator, Abbas Araqchi made the remark in an interview with Trend news agency.
Iran and six world powers reached a breakthrough deal early on November 24 on Tehran's nuclear program. The two sides have signed a joint "plan of action". The deal signed in Geneva suggests some softening on sanctions against Iran.
Commenting on the U.S. Secretary of State John Kerry`s words that "nuclear deal with Iran doesn't include right to enrich uranium", Araqchi explained that there is some misunderstanding on the issue.
"Iran's uranium enrichment right can not be granted or limited by another countries, as it's secured by the NPT as well as international agreements" he said.
"We expect other countries to respect this right and accept its implementation," Araqchi said adding that the issue included in Geneva deal and all P5+1 countries including the United States have agreed that Iran's uranium enrichment program to continue.
Iran's right for uranium enrichment was stabilized by Geneva deal, he added.
"The Geneva deal is first step of a bigger step. Two sides should start negotiations on final agreement. The first step is for six months and all articles of the Geneva agreement should be implemented during the period," Araqchi said, commenting on Iran's priorities during the next several months.
Araqchi also underlined that Iranian assets are not blocked in the United States or other countries, adding that, the mentioned assets are Iran's oil export revenues which can not be transferred due to sanctions on the Bank system.
Earlier, media outlets quoted spokesman of Iran's administration Mohammad-Baqer Nobakht as saying some $8 billion of Iran's frozen assets were released by the US.
Araqchi said that based on the Geneva agreement a bank mechanism will be setup for using frozen assets.
He did not unveil an exact amount of assets which will be available due to Geneva agreement, saying that it may differ due to Iran's needs on medicine and food imports.
There is no concrete figure about the amount of Iran's frozen assets abroad, while in February Iran's former Deputy Commerce Minister for Economic Affairs, Hamid Safdel said that $100 billion worth of Iran's assets have been blocked overseas.
Head of the Majlis Research Centre (MRC) Kazem Jalali said on August 2 that some $60 billion worth of Iranian assets were blocked by foreign banks.
In turn, AP reported on Oct. 18 that Iran's assets are estimated to be between $50 billion to $75 billion.
Araqchi also underlined that assets have been frozen in the countries which buy oil from Iran.
While responding to the question about the possible negotiations with EU members on lifting sanctions which agreed to be removed based on Geneva deal, Araqchi said that "It is European country's internal administrative issue and the EU foreign policy chief Catherine Ashton, will pursue that."
Commenting on possibility of reviewing some articles of the Geneva agreement, he said that the deal has been agreed by two sides and will be implemented when the sides will be ready, approximately in a month.