Turkiye thanks int'l community for aid after devastating quakes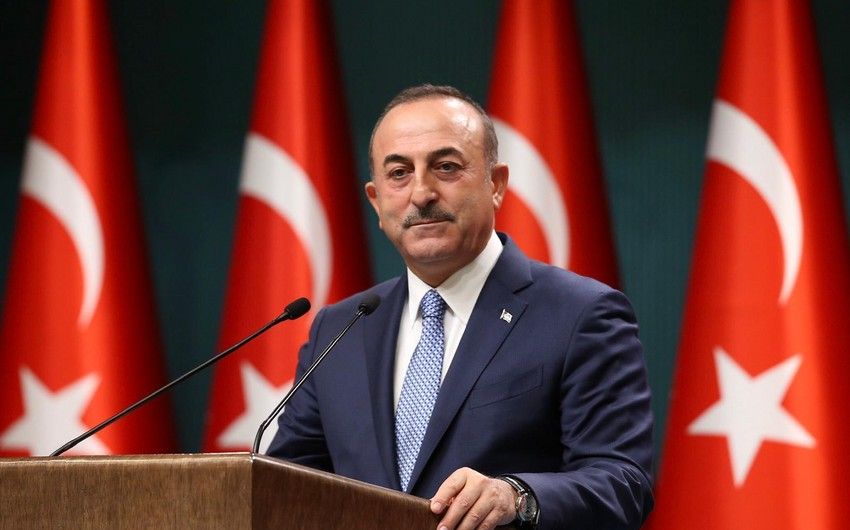 On February 22, Turkiye's foreign minister thanked the EU and the international community for their assistance and support in the wake of earlier this month's deadly earthquakes.
The EU has shown great solidarity with Turkiye during such a difficult period, Mevlut Cavusoglu said at a joint press conference in the capital Ankara with EU Commissioner for Neighborhood and Enlargement Oliver Varhelyi, and Johan Forssell, the international development minister of Sweden, currently the EU's term president.
Cavusoglu stated that the EU activated integrated political crisis response (IPCR) immediately following the earthquakes and that the EU's Civil Protection Mechanism was also activated quickly upon Turkiye's request because it is a member of the mechanism.
He noted that 32 search and rescue teams as well as five medical teams were dispatched to Turkiye within the framework of the mechanism, and said: "With the hard work of 1,750 search and rescue officers, 79 of our citizens were rescued from the rubble."
The Turkish foreign minister also announced that Hungarian Foreign Minister Peter Szijjarto will pay a visit to Turkiye, bringing aid collected for earthquake victims.
Underlining that Turkiye has benefitted from EU solidarity funds and its Instrument for Pre-Accession Assistance (IPA) as a candidate country, Cavusoglu said there had been interruptions in IPA funds before and that such interruptions were not beneficial.
During the discussions with Varhelyi and Forssell, the minister said they addressed directing the funds to the citizens affected by the earthquake and infrastructure investments.
"One thing we agreed on today is that such cooperation and aid should be sustainable, sufficient, and flexible. Because we will rebuild many cities," he added.
We care because we are friends
For his part, EU Commissioner Varhelyi conveyed his condolences over the deadly earthquakes and said they were in Turkiye to help. "We care because we are friends because we are allies and I think this cannot be underlined strongly enough."
"My generation for sure has not seen such a devastating earthquake on the planet and this is why the human suffering is immense," he stressed.
Noting that the EU has "mobilized roughly €5.5 million in support for the immediate and most urgent needs," Varhelyi said it is "only a first response."
"This is to provide immediate support and also the search and rescue operations. But it is clear that we will need to do significantly more to overcome the human suffering and alleviate all the damages that have been done by the earthquake," he affirmed.
Noting that the damage caused by the massive earthquakes in southern Turkiye is "substantial," the EU Commissioner said they are "ready to meet this challenge."
"The European Commission is ready to do everything in its power, to help and we are ready to participate in building new houses schools, new hospitals, and new nurseries so that normal life can return to these regions in Turkiye."
Asked if Turkiye-EU relations would be on a positive course after this earthquake, Varhelyi said: "If out of this (earthquake), we will have even reinforced friendship and partnership with Turkiye, so much the better."
Unimaginable catastrophe
Forssell also conveyed a message of "solidarity and of commitment to the people in Turkiye affected by the devastating earthquakes."
"There are, of course, no words of condolences from the outside world that will properly match this unimaginable catastrophe and its consequences for the Turkish people. But, we can take action and we will take action, and that is why we are here today," Forssell added.
He said that the "links between Sweden and Turkiye are strong on a human level, but also economically and politically," adding: "As the Minister not only for economic cooperation, I'm also the Minister for Foreign Trade, I would like to take this opportunity to highlight the strong commitment that many Swedish companies have manifested in providing support to Turkiye, in the aftermath of the earthquakes and in the time ahead."
"We look very much forward to strengthening our cooperation in areas such as trade and investments, where we see a great potential that we should explore," he added.
At least 42,310 people were killed by two strong earthquakes that jolted southern Turkiye on Feb. 6. Thousands of others were injured.
The Disaster and Emergency Management Presidency (AFAD) said the quakes, centered in the Pazarcik and Elbistan districts of Kahramanmaras province, were followed by 7,184 aftershocks.
Several countries in the region, including Syria and Lebanon, also felt the tremors that struck in less than 10 hours.
A total of 14,740 local and international search and rescue personnel are currently working in the field, AFAD said.
The teams have set up tent and container cities in the earthquake zone as well as mobile health clinics to provide psychological support to the victims.
Separately, Turkish Interior Minister Suleyman Soylu announced at a press briefing that at least six people were killed and 562 others wounded with 18 in critical condition after a fresh earthquake jolted Turkiye's southernmost province of Hatay late on Monday.
---
Follow us on Twitter @AzerNewsAz