30 December 2017 11:55 (UTC+04:00)
2 431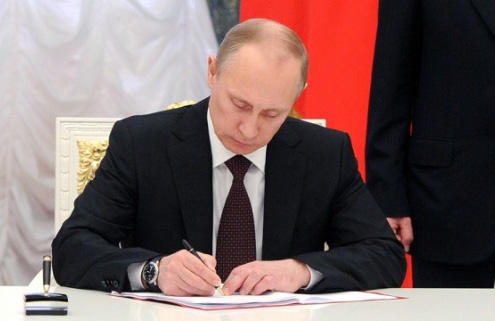 Russian President Vladimir Putin has signed a law toughening criminal liability for recruiting to terrorist organizations up to life imprisonment, TASS reported.
The law toughens punishment for financing terrorism, recruitment or other involvement of a person into terrorism-related crimes.
Such crimes will carry a punishment of prison terms from eight to 20 years alongside a fine of from 300,000 to 700,000 rubles (5,214 to 12,103 US dollars) or a life imprisonment. Before now, the maximum punishment for recruitment was ten years behind bars.
"One of the goals of these amendments is to form a negative public attitude to any actions geared to prepare terror attacks as such actions are as dangerous as terror attacks as such," Andrei Klishas, chairman of the constitutional law committee at Russia's Federation Council upper parliament house, said earlier.
Related News