26 October 2017 14:16 (UTC+04:00)
2 841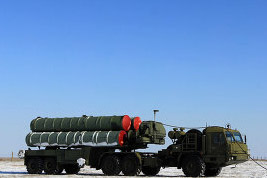 By Kamila Aliyeva
The North Atlantic Treaty Organization (NATO) is still worried over Turkey's decision to purchase Russian military equipment.
NATO is against Ankara's purchase of S-400 anti-aircraft missile systems from Moscow, mainly due to security reasons and not because of the technical incompatibility of Russian and Western military equipment.
This was stated by Czech General Petr Pavel, chairman of the NATO Military Committee, at a meeting with a group of journalists in Washington on October 25, TASS reported.
"The principal of sovereignty obviously exists in acquisition of defense equipment, but the same way that nations are sovereign in making their decision, they are also sovereign in facing the consequences of that decision. The potential acquisition of the S-400 is contingent [for the North Atlantic alliance and Turkey] with certain ... consequences. This is an extremely advanced system that cannot, partly because of technical reasons, but mainly for security reasons, be integrated into the air defense / missile defense system of NATO," he said.
And even as a stand-alone system, it creates challenges for the means of the allies, which potentially can be deployed in the territory of such a country, Pavel believes.
"Therefore, there are a number of administrative and technical challenges, as well as security challenges related to such a decision. In my opinion, it is fair for the allies to hold a discussion on this matter in order to state all the issues of concern. But, if the country, with full understanding of the consequences, still decides to purchase this equipment, this is its national decision," he added.
During his state visit to the U.S. capital, General Peter Pavel took part in a Pentagon meeting of military leaders of several dozen countries, which was devoted to combating terrorism and extremism.
The S-400 is Russia's next-generation air defense system, carrying three different types of missiles capable of destroying aerial targets at a short-to-extremely-long range. The weapon is capable of tracking and destroying all existing aerial targets, including ballistics and cruise missiles.
Reportedly in July 2017, Turkey reached an agreement with Russia to purchase the S-400. Under the $2.5 billion agreement Ankara would receive two batteries of the antiaircraft missile from Moscow within the upcoming year and then produce two more batteries in Turkey.
Turkish President Recep Tayyip Erdogan said on September 12 that Ankara had signed an agreement with Moscow on the acquisition of the S-400 SAM, and the deposit has already been paid.
Then in mid-October Erdogan noted that Turkey had discussed with Russia and the question of the possible acquisition of the S-500 system.
The deal on S-400 raised eyebrows among Ankara's fellow NATO members and caused concerns as they are supposed to only buy compatible weapons systems from other members.
Turkish leader previously said in an interview with the American PBS TV channel that despite negotiations with NATO member states regarding the acquisition of an air defense system, none of the alliance members provided Turkey with such an opportunity.
He noted that Turkey must ensure its own security and based on this, it was decided to acquire Russian S-400 air defense system.
Turkey has the second-largest military force in NATO, after the U.S., but ties among the NATO allies have worsened last July after a failed coup attempt. Relations further deteriorated following an April referendum which expanded the powers of the president.
Ankara also objects to some NATO members' military support for Syrian Kurdish rebels, who are linked to PKK terrorists.
---
Kamila Aliyeva is AzerNews' staff journalist, follow her on Twitter: @Kami_Aliyeva
Follow us on Twitter @AzerNewsAz
Related News