28 August 2017 14:36 (UTC+04:00)
2 224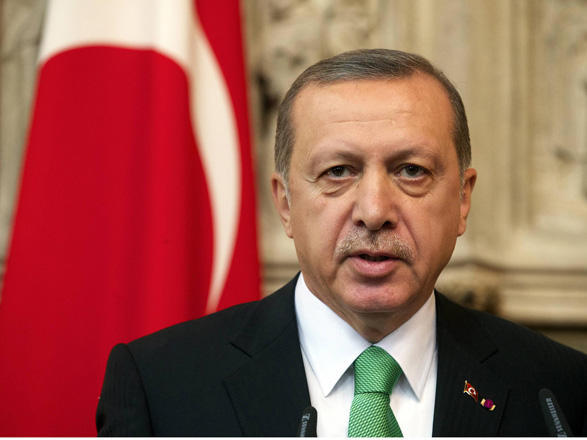 By Ali Mustafayev
Turkish leader Recep Tayyip Erdogan is expected to visit Iran in the nearing future.
"We expect that President Erdogan will visit Tehran soon. We will make an official statement as soon as the details and date of the visit is agreed upon," Iran's Foreign Ministry spokesman Bahram Qassemi told Iranian Labor News Agency (ILNA).
The announcement was made following the meeting between Iranian Deputy Foreign Minister, Ebrahim Rahimpour, and Turkish Foreign Ministry's Undersecretary Umit Yalcin, in Tehran
Noting that the meeting held between Erdogan and Iran's Chief of General Staff Major General Mohammad Bagheri addressing bilateral relations in Turkey's Ankara was very effective, Qassimi gave no information regarding the outcome of the meeting.
Bagheri visited Ankara on August 15 to make official contacts and the Turkish president received him on August 16.
The August 16 meeting focused on the regional issues, terrorism as well as cooperation between the two countries regarding the border issues.
Ankara and Tehran share common views on regional issues, particularly the war against terrorism in Iraq and Syria. The two hint at a joint military operation against PKK terrorists in northern Iraq, which is still on the agenda.
The negotiations with the government of Iraq continue in order to find the common ground and to agree on action.
Another point of common interests is Syrian conflict, which lasts since 2011. Along with Russia, Iran and Turkey are sponsoring the negotiations in Astana, dubbed as the Astana Process.
Astana Process is mainly intended to create the de-escalation zones in Syria.
Each of the three countries take initiative within cooperation to overcome the extremist groups and to provide dialogue between the Syrian opposition and Bashar al-Assad's administration in the name of peace and to end the massacre, which represents danger for the security of the region and takes a large number of innocent lives every day.
--
Follow us on Twitter @AzerNewsAz
Related News