Azerbaijan's nimble gas plans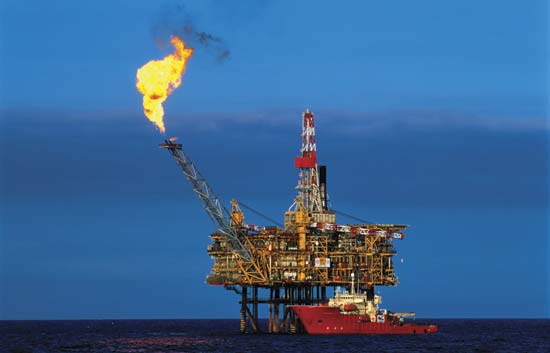 By Gulgiz Dadashova
Azerbaijan, a key energy player in Eurasia, today is completely successful country both in terms of production and in terms of transportation of energy resources, and the country is committed to make great strides to boost this position.
Over the past decade, Azerbaijan could considerably expand its energy industry enabling the country to be a secure energy supplier to the world. However, the country still enjoys every opportunity to discover additional reserves of gas condensate from its own fields in the Caspian Sea.
Azerbaijan's Energy Minister Natig Aliyev made the remark in Baku on April 25, further noting the necessity of developing mining projects, where all recourses are available.
"First of all, it is the third stage of full development of gas condensate field Shah Deniz.
The full potential of the block of oil and gas fields Azeri-Chirag-Guneshli (ACG) in the Azerbaijani sector of the Caspian Sea is also not disclosed. Here, it is necessary to conduct additional exploration and study deposits below the productive strata. Azerbaijan enjoys enough prospects and targets for the discovery of new gas condensate fields," Aliyev said.
The country holds over over three trillion cubic meters of gas reserves which helps the development of the country's export potential. The Shah Deniz natural gas and condensate field started producing in late 2006, making Azerbaijan a net gas exporter.
While the main focus is on the Shah-Deniz field with estimated gas reserves at 1.2 trillion cubic meters, Azerbaijan possesses additional significant gas fields such as Absheron, Umid, Babek and Nakhchivan, of which Absheron field is projected to be commenced in 2021. The cited indicators ensure future development of the gas industry in Azerbaijan for a period exceeding 100 years.
These reserves are expected to allow Azerbaijan to focus on expanding its energy industry and broader supply routes ensuring a stable economic growth.
Azerbaijan, the second-largest oil producer in the former Soviet Union, enjoys a potential to produce oil and gas from shale. Shale gas fields are located at the territory of Gobustan, Shemakhi and other regions. Earlier, ConocoPhilips conducted geological survey at Azerbaijani foothills in accordance with the agreement with SOCAR.
Meanwhile, the country recently announced that for the first time it hit a record in commercial gas production level in 2015.
The country's commercial gas production hit 18.9 billion cubic meters in 2015, some 0.2 bcm more than in 2014. Commercial gas production was raised from both Shah Deniz and Azeri-Chirag-Guneshli fields' associated gas. All of these fields are operated by BP.
The country produced 9.9 bcm of commercial gas from Shah Deniz Stage 1 in 2015. The total gas production in Azerbaijan (including flared and re-injected gas to oil wells) reached 29.4 bcm in 2015.
Azerbaijan has long aspired to engage and cooperate with multiple customers, and for the next decade it plans to be one of the key gas suppliers to the Europe.
Most of Azerbaijan's natural gas is destined for Turkey, but the country supplies a small volume to Greece via the Turkey-Greece interconnector. Under a previous arrangement, Turkey was re-exporting Azerbaijani natural gas to Greece, but the ongoing Southern Gas Corridor project will allow Azerbaijan to directly export volumes to Europe. The Shah Deniz Stage 2 will result in increased exports to Europe once the needed infrastructure is completed. The country has the capability to provide additional gas export volumes beyond Shah Deniz phase 1 and 2 developments from 2021-22 onwards, when the Absheron field will come on-stream.
The Southern Gas Corridor has made Azerbaijan even more vital to Europe's efforts to become less energy dependent on one source. Europe also called on Azerbaijan to participate in the Trans-Caspian pipeline project and bring Central Asian gas to Europe. There can be a ready market for Azerbaijani gas in the countries of the Central Europe and the Balkans.
--
Follow us on Twitter @AzerNewsAz