3 June 2015 16:21 (UTC+04:00)
1 450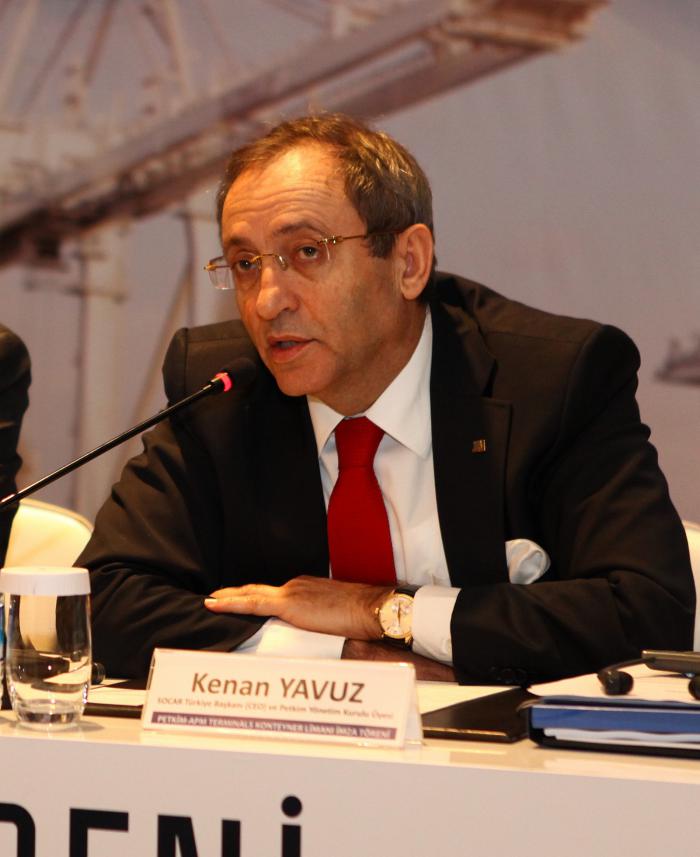 By Aynur Karimova
Petkim Peninsula will become one of the largest production centers of Europe, said Kenan Yavuz, the head of SOCAR Turkey Enerji and Board Member of Petkim Petrochemical Holding.
He made this remark at a press conference held within the framework of the 22nd International Caspian Oil and Gas Exhibition at Baku Expo Center on June 2.
Speaking about the Trans-Anatolian Gas Pipeline, Star refinery, Petlim port, as well as projects of construction of the new coal thermal power plant and wind power plant, Yavuz noted that today, Azerbaijan's state energy company SOCAR, with its $20 billion investments, is the largest foreign investor in Turkey, and will become the second largest company in this country in 2018.
Petlim port to be commissioned this year
Talking to media, Yavuz said Petlim container port will be fully commissioned in September this year. Investments attracted for the construction of the port stands at $250 million.
Some $212 million of these investments have been attracted from Turkish Akbank as a loan, while the remainder was provided by Dutch company APM Terminals, one of the world's leading port operators, which will operate the port.
Last year Petlim Limancılık Ticaret A.Ş. Company, daughter of the Petkim Petrochemical Holding, sold 30 percent of its shares to Goldman Sachs Company for $300 million. Currently, 70-percent share of the company belongs to SOCAR, while 30 percent is hold by Goldman Sachs.
Petlim will become Turkey's third and Aegean Sea's first largest port. Some 80 percent of construction works have already been completed in the port. The initial capacity of the port will be 1.5 million TEU, which will be doubled in the future.
Star refinery to produce first goods in 2018
Touching upon the Star refinery that is being constructed by SOCAR in Petkim Peninsula, Yavuz said its construction will be completed at the end of 2017 and the refinery will produce its first products in early 2018.
Some 20 percent of construction works have already been completed in the refinery.
Yavuz noted that to date, some $1.5 billion investments plus $258 million loans were made toward the construction of the refinery.
New power plants to be inaugurated
Yavuz also revealed SOCAR's plans to produce electricity at the Petkim Peninsula.
He said that SOCAR plans to produce 1,500 megawatt of electricity from two power plans - a 300-megawatt coal thermal power plant and a51-megawatt wind power plant.
The construction of both plants has already started and they will be commissioned in 2016.
"The electricity produced at these plants will be used for meeting the needs of the Petkim Petrochemical Holding, Star refinery and Petlim port. The export of electricity will be possible as well," Yavuz stressed. "It will be possible to produce electricity from raw materials used in the production of petroleum goods in the future."
Petkim Petrochemical Holding, in which SOCAR owns shares, manufactures plastic packages, fabric, PVC and detergents. It is the only Turkish producer manufacturing such products.
A quarter of Petkim's products are exported to foreign markets.
--
Aynur Karimova is AzerNews' staff journalist, follow her on Twitter: @Aynur_Karimova

Follow us on Twitter @AzerNewsAz
Related News