27 November 2012 12:33 (UTC+04:00)
1 156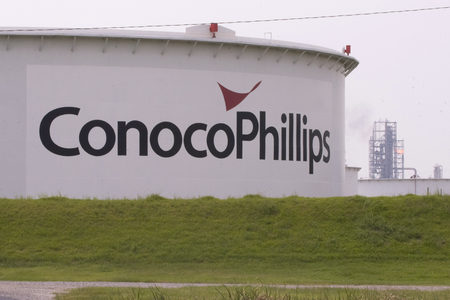 U.S. oil firm ConocoPhillips is to sell its 8.4 percent stake in Kazakhstan oil field Kashagan for about $5 billion to Oil and Natural Gas Corp (ONGC.NS), a state-run Indian group looking to boost production, according to Reuters.
Kashagan, the world's biggest oilfield discovery since 1968, holds an estimated 30 billion barrels of oil-in-place, of which 8 billion to 12 billion are potentially recoverable, with first production expected next year. Start-up of the field has been delayed since 2005 due to cost overruns and disputes with authorities over taxes.
With ONGC's domestic output flat for years, India now buys nearly 80 percent of its oil needs and is the world's fourth-biggest oil importer.
ConocoPhillips, which has been shedding overseas assets to cut debt and increase its investment in lower-cost domestic shale oil and gas, said on Monday the book value of assets related to its Kashagan interest was about $5.5 billion as of September 30, and it would take an after-tax impairment of about $400 million. The deal was expected to close in the first half of 2013.
Fadel Gheit, oil analyst at Oppenheimer, said ConocoPhillips was cutting its losses by selling its stake.
"This project has been plagued by problems," said Gheit. "All along it was poorly handled. It is over budget and behind schedule."
ONGC, India's fifth-biggest company by market value, has been investing to maintain output from its old fields and has capital spending plans of around 340 billion Indian rupees ($6.1 billion) this year and next. It is under pressure from the government to meet rising demand.
With Indian state companies having often lost out to China in bidding for global energy assets, the Kashagan acquisition is the largest ever for ONGC. It is also the biggest outbound deal from India since mobile phone operator Bharti Airtel (BRTI.NS) bought mobile phone operations in Africa for $9 billion in 2010 from Kuwait-based Zain (ZAIN.KW).
ONGC Videsh, the arm of ONGC that invests overseas, said the acquisition would likely add 1 million metric tons (20,000 barrels per day) to its annual production over 25 years, with its share of output significantly higher in later stages of development.
ONGC Videsh's production in the year to March was 8.7 million metric tons.
Diversification
The deal comes as India pushes to diversify crude supplies away from Iran, which used to provide about 12 percent of the country's 3.5 million bpd or so of imports before sales were hit by western sanctions aimed at curbing Iran's nuclear ambitions.
It puts ONGC Videsh into what has been a fraught and expensive partnership between Kazakhstan and some of the world's biggest oil companies, which hope to use the departure of ConocoPhillips to gain greater operating control and extend their production-sharing agreements with the state beyond 2041.
Kazakhstan, home to 3 percent of the world's recoverable oil reserves and the largest former Soviet oil producer after Russia, has sought to revise deals struck with foreign energy companies in the lean post-Soviet years.
Shedding assets
ConocoPhillips, which has been disposing of non-core overseas assets to cut debt and increase its exploration and dividend budgets, has already beaten its target of asset sales worth $20 billion by the end of 2012, including the sale of its stake in Lukoil (LKOH.MM), Russia's second-biggest oil producer.
Last month, Kazakh oil and gas minister Sauat Mynbayev said ConocoPhillips planned to sell its stake.
ONGC was also said to be one of a trio of Indian companies that had bid $5 billion for stakes in six of ConocoPhillips' Canadian oil sands assets, which the Houston-based oil major put on the block early this year.
ConocoPhillips is still evaluating bids for the assets following "substantial" interest, said Rob Evans, spokesman for the company's Canadian operations.
That asset package includes and interest the producing Surmont project, run in a joint venture with France's Total SA (TOTF.PA), and undeveloped leases.
The ONGC deal is subject to government approvals as well as the pre-emption rights of Kazakhstan and other participants in the Kashagan field which is jointly controlled by state-run KazMunaiGas and six international companies, including Eni (ENI.MI), ExxonMobil (XOM.N), Inpex Corp (1605.T), Royal Dutch Shell (RDSa.L), and Total (TOTF.PA).
It is unlikely that Exxon or Shell would exercise their right of first refusal, citing the project's ongoing problems, Oppenheimer's Gheit said.
"I'm not sure you want more of a bitter pill," Gheit said.
ConocoPhillips stock was down 0.5 percent at $56.42 in midday New York Stock Exchange trading.
($1 = 55.5850 rupees)