SOFAZ and SOCAR delegations visit Heydar Aliyev drilling rig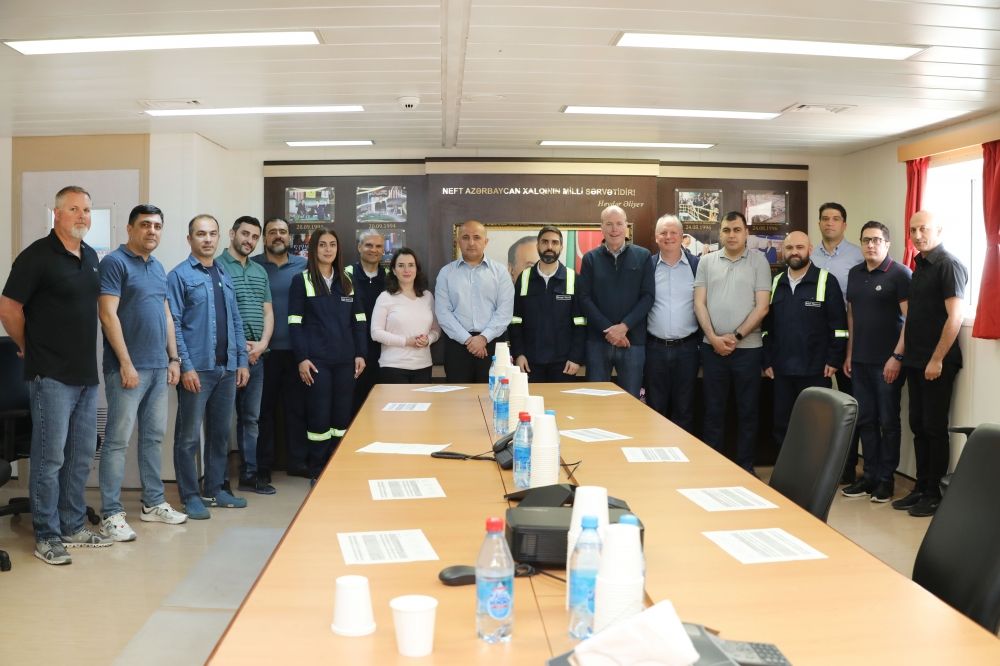 A delegation of SOFAZ (the State Oil Fund of the Azerbaijan Republic) and SOCAR (the State Oil Company of the Azerbaijan Republic) visited the Heydar Aliyev rig which is currently drilling a new exploration well (SDX-8) in the eastern flank of the Shah Deniz field.
The delegation included Israfil Mammadov, SOFAZ CEO and a member of SOCAR Supervisory Board, and Rovshan Najaf, President of SOCAR, accompanied by Gary Jones, bp's regional president for Azerbaijan, Georgia and Türkiye, as well as a group of SOFAZ, SOCAR and bp senior executives.
The purpose of the visit was to see firsthand the progress of the drilling acitivities and to meet the personnel onboard the rig to discuss the current status of operations and safety performance.
The delegation toured the facility receiving full updates on the overall functioning mechanism and safe, efficient and reliable operational processes of this unique to the Caspian modern drilling facility.
The three leaders then had a staff townhall on board the rig during which they discussed safety, operational performance and other business-related questions. They thanked the rig personnel for their outstanding job and commitment to safety and recognised a group of people for their excellent performance, delivery and exceptional dedication to safe and reliable operations.
The SDX-8 well, which was spudded in January 2023, aims to provide a clearer understanding of drillability, producibility and resource potential of the deeper horizons beneath the currently producing reservoirs in the eastern flank of the Shah Deniz field.
It is planned to drill the well to a total depth of around 7,000 meters. The well will take approximately one year to drill and a further testing programme could extend the well's duration in order to evaluate the results.
---
Follow us on Twitter @AzerNewsAz