Iran offers SOCAR to join its projects [PHOTO]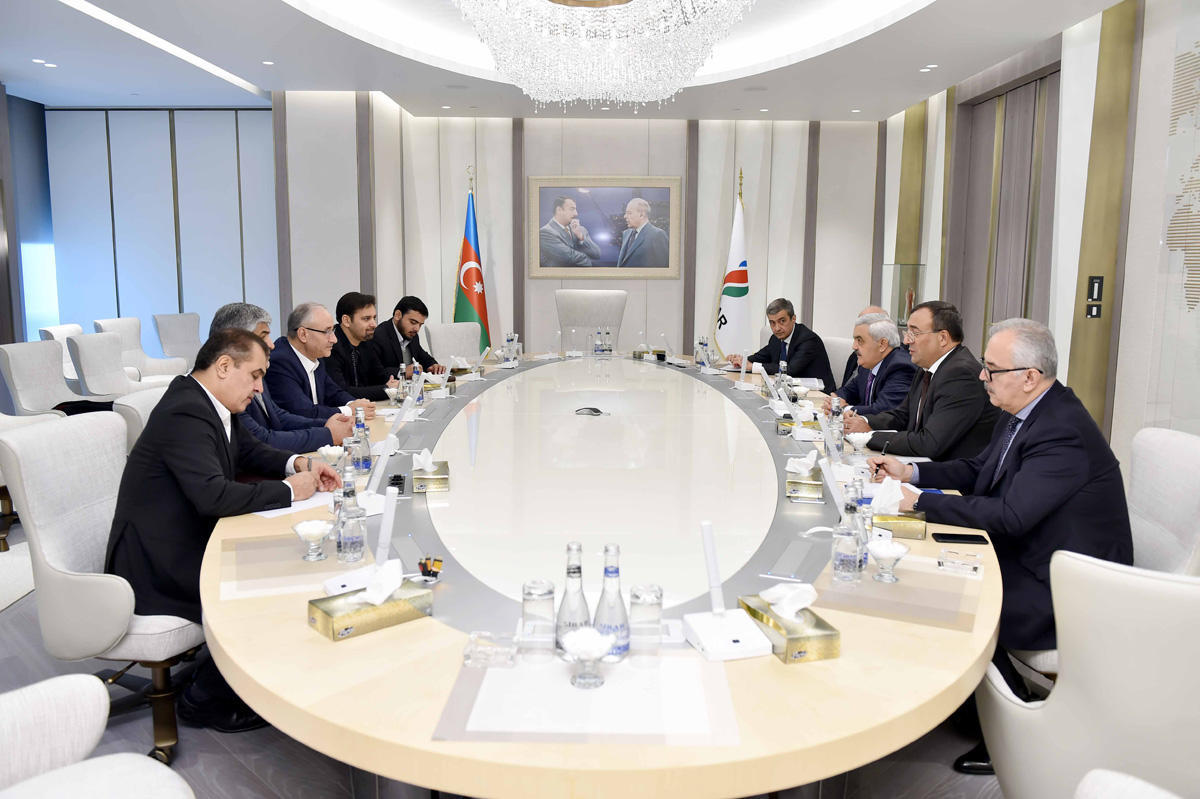 By Sara Israfilbayova
Iran is interested in the participation of Azerbaijan's State energy company SOCAR in the projects being implemented in the Islamic Republic.
Iran's deputy oil minister for international affairs, Amir Hossein Zamaninia said at a meeting with SOCAR President Rovnag Abdullayev that the company has great experience in implementation of international projects.
"Both countries have great potential for intensifying ties in economy, including the energy sector," he said. "Cooperation in the oil and gas industry can make an even greater contribution to development of the two neighbor countries."
Abdullayev, in turn, touched upon intensification of the dialogue between the two countries' oil and gas companies and expansion of relations between Azerbaijan and Iran in various sectors of economy.
At the meeting, the sides discussed the expansion of cooperation in the oil and gas sector, as well as in the Persian Gulf and the Caspian Sea.
South neighbor Iran sees SOCAR as a serious player, opening opportunities for the company to invest in the Islamic republic.
In September, SOCAR's top officials, including Abdullayev and a delegation from Khazar Exploration and Production Company (KEPCO), headed by managing director Mohsen Delaviz, the National Iranian Oil Company's (NIOC) discussed the joint exploration and development of the Caspian Sea oil and gas fields.
The Caspian Sea region has immense scope for oil and gas exploration and production due to the presence of substantial undiscovered resources. In 2003, the Energy Information Administration (EIA) estimated the Caspian basin area to hold 48 billion barrels (bn bls) of oil and 292 trillion cubic feet (tcf) of natural gas in proved and probable reserves.
Earlier this June, NIOC has announced the list of companies that can participate in the tender for the development of Iranian deposits. The list consists of 34 companies, including SOCAR, Russian Gazprom Neft, Rosneft, Tatneft and Zarubezhneft.
SOCAR's possible participation in oil and gas projects of Iran was discussed during a meeting of a delegation headed by SOCAR President Rovnag Abdullayev with Iran's Oil Minister Bijan Namdar Zangeneh in early April.
The sides considered such issues as cooperation in the gas trade sphere, implementation of joint projects with third countries, and held wide exchange of views.
This spring the company was added to the list of partners of Iranian E&P Companies, and this means that now SOCAR can participate in projects in Iran and invest in the country in parallel with such large companies as Shell and Total.
SOCAR is a wholly state-owned national oil company headquartered in Baku, which produces oil and natural gas from onshore and offshore fields in the Azerbaijani section of the Caspian Sea.
The country's energy giant, which includes production associations Azerneft, made up of companies involved in the production of onshore and offshore oil and gas, Azerkimya, chemical industry enterprises, and Azeriqaz gas distribution, is involved in exploring oil and gas fields; producing, processing, and transporting oil, gas, and gas condensate; marketing petroleum and petrochemical products in the domestic and international markets; and supplying natural gas to the industries and public in Azerbaijan.
SOCAR owns petrol stations in Azerbaijan, Georgia, Ukraine, Romania and Switzerland.
---
Follow us on Twitter @AzerNewsAz