Expert: Europe still interested in the Trans-Caspian gas pipeline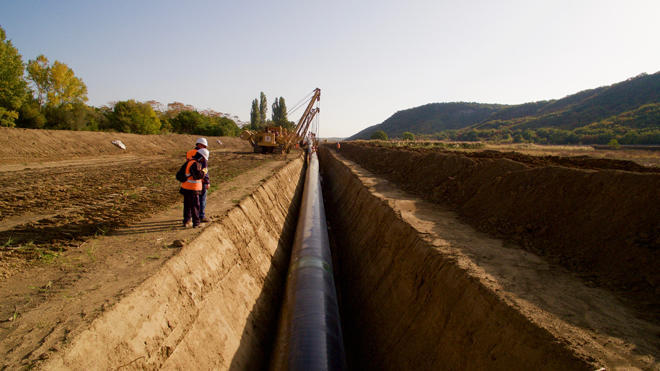 By Sara Israfilbayova
Some political and business groups in Europe are still interested in building of the Trans-Caspian gas pipeline, said Marco Siddi, a senior researcher at the Finnish Institute of International Relations.
"However, the real commitment to the implementation of this project remains limited," Siddi wrote in his e-mail to Trend.
The prospects of the Trans-Caspian pipeline have not changed in the last couple of years, since all the main obstacles to the implementation of this project, such as construction costs, competition with other projects, gas demand stagnation in Europe, uncertainty about supplies from Turkmenistan, the unresolved legal dispute over Caspian Sea territorial boundaries and Russian and Iranian opposition to the project are still relevant, according to the expert.
Siddi noted that there are also additional obstacles - Russian-implemented projects, including the Turkish Stream, construction of the offshore section of which in the Black Sea started in early May. The pipeline is being built within the framework of the intergovernmental agreement between Russia and Turkey, signed in October 2016, which involves the laying of two branches of a gas pipeline with a capacity of 15.75 billion m2 of gas.
Besides, the latest events in Turkey, through which Turkmen gas and gas from the Trans-Caspian pipeline should go to Europe, as well as the growing confrontation between Turkey and the EU cause serious concern among European leaders.
The Trans-Caspian gas pipeline project is considered the best option for delivering energy resources from Turkmenistan, which ranks fourth place in the world in gas reserves, to the European market. The pipeline is supposed to be laid along the bottom of the Caspian Sea to the shores of Azerbaijan. Further on the existing infrastructure, Turkmen hydrocarbons can get to Turkey, which borders with European countries.
Trans-Caspian gas pipeline may be implemented as a part of huge Southern Gas Corridor project designed to transport gas from the Caspian region, in particular Azerbaijani gas to European countries.
A project to import natural gas from Turkmenistan through a subsea pipeline was suggested in 1996 by the United States. Negotiations on the Trans-Caspian gas pipeline between the EU, Azerbaijan and Turkmenistan began in September 2011.
---
Follow us on Twitter @AzerNewsAz