Azerbaijanis in New York protest against recent Armenian provocation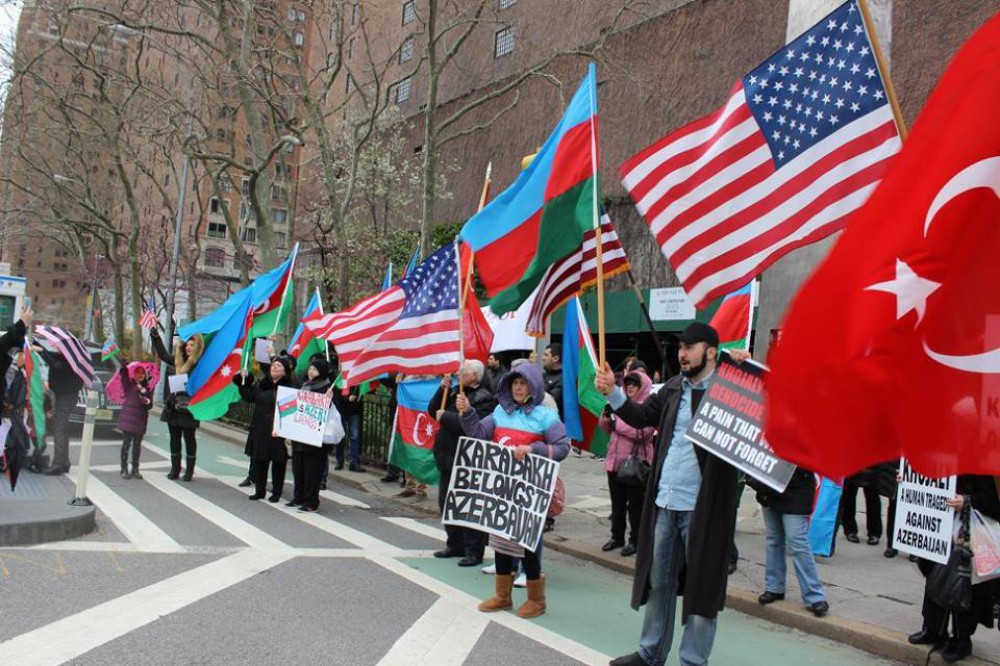 A group of Azerbaijanis has held a rally in front of the UN headquarters in New York to protest against the recent armed provocations of Armenia on the contact line of Armenian and Azerbaijani troops.
The protesters chanted different slogans such as "Justice for Karabakh!", "Motherland we are with You!", "Armenia is occupant!".
The protestors condemned the violations of ceasefire killing the civilians by Armenian Armed Forces.
Azerbaijan and Armenia for over two decades have been locked in conflict, which emerged over Armenian territorial claims. Since the 1990s war, Armenian armed forces have occupied over 20 percent of Azerbaijan's internationally recognized territory, including Nagorno-Karabakh and seven adjacent regions. The UN Security Council has adopted four resolutions on Armenian withdrawal, but they have not been enforced to this day.
A precarious cease-fire was signed in 1994. However, the Armenian forces committed armistice breaches on the frontline almost every day.
The OSCE Minsk Group acted as the only mediator in resolution of the conflict, proceeding talks based on the renewed Madrid principles. The statements promising a sincere contribution to the peaceful resolution of the conflict have become frequent, but declarative in essence. The very attitude broke confidence in success of the mediators representing the U.S., Russia and France.
---
Follow us on Twitter @AzerNewsAz