Azerbaijani-French relations in focus of talks in Baku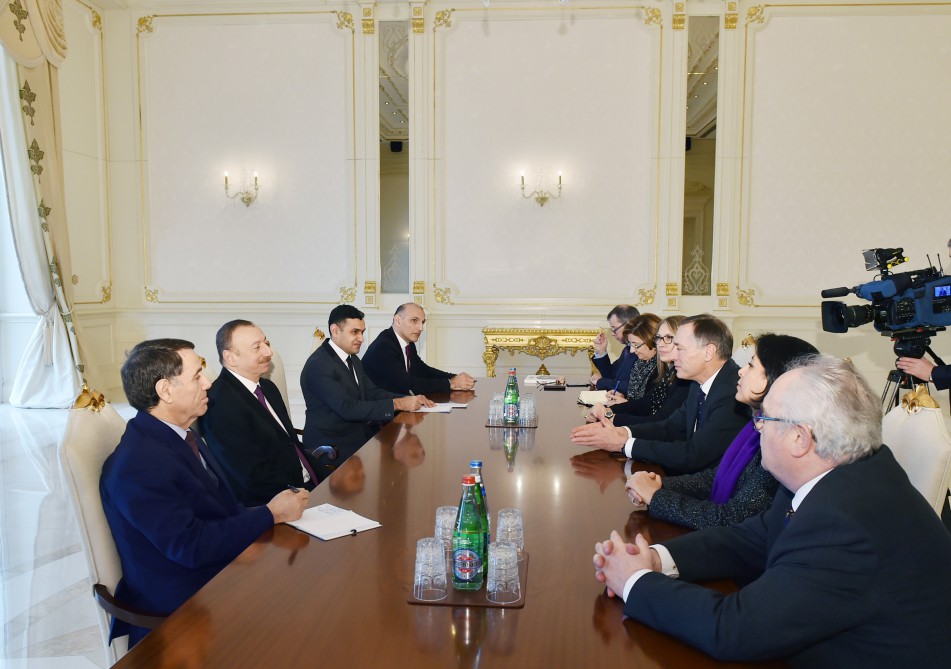 Azerbaijani President Ilham Aliyev received a delegation led by the senator representing Upper Rhine department at the French Senate, member of the French-Caucasus friendship group, former minister, Jean-Marie Bockel, in Baku on February 19, Azertac state news agency reported.
The head of state said the visits of members of the French parliament became traditional, and hailed the fact that they come in a new format every time they visit Azerbaijan. The President said the visit would be a great opportunity for the French delegation to closer familiarize with Azerbaijan.
Touching upon the regular visits of members of the French parliament, the head of state stressed the role of such trips in strengthening friendship between the two countries.
President Aliyev said that political and economic relations as well as inter-parliamentary cooperation were of pivotal importance in terms of the strengthening of the bilateral ties.
Bockel, in turn, stressed the significance of traditional visits of the French parliamentary delegation. He said members of the delegation were friends of Azerbaijan.
He said they were visiting Azerbaijan on the eve of the anniversary of the Khojaly genocide, expressing sympathy for the people of Azerbaijan.
Special ties between the heads of state were emphasized during the meeting. They also spoke of the Armenian-Azerbaijani Nagorno-Karabakh conflict, and emphasized the importance of solving the dispute in a peaceful manner and through negotiations in compliance with the norms of international law.
The sides exchanged views on Azerbaijan`s cooperation with European organizations.
Azerbaijan and France are actively developing their relations. The trade turnover between Azerbaijan and France amounted to $1.681 billion in 2014.
French companies are actively participating in the petrochemical, food, agricultural, machine engineering, tourism and other spheres in Azerbaijan. Some 91 companies from France are involved in the oil and gas projects in Azerbaijan as subcontractors. At the same time, over 50 French companies are involved in the non-oil sectors' projects, including the first Azerbaijani telecommunications satellite Azerspace, and a plant for solid waste recycling.
---
Follow us on Twitter @AzerNewsAz