10 January 2016 17:50 (UTC+04:00)
1 376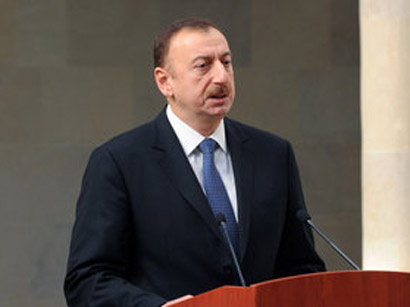 Increasing prices for products manufactured in Azerbaijan is impossible in general, said Azerbaijan's President Ilham Aliyev on January 10.
The president made the remarks addressing a meeting of the Cabinet of Ministers, dedicated to the social and economic development in 2015 and the objectives for the future.
"We need to seriously control consumer prices. Some bargainers want to artificially raise prices in connection with the change in the manat's rate. We are, of course, dependent on food imports at a certain level," he said, adding that the country hasn't been able to fully provide itself with domestic goods for now.
"However, the price increase for the goods produced in Azerbaijan is, in general, impossible and shouldn't take place," he said. "I know that some dishonorable people, bargainers want to abuse this issue with the rate. This must end. Artificial increase in prices must be stopped."
"Very severe penalties should be used here, and we shouldn't limit ourselves only to fines," added President Aliyev. "Let the prosecution authorities get engaged in that seriously. Very severe penalties must be applied to those who want to use the situation for their own benefit, and it should be covered by the press in order to put an end to it."
Azerbaijan needs to cut oil dependence to lowest level
In 2015, Azerbaijan's GDP increased by more than one percent, industrial production rose by 2.4 percent and non-oil industry grew by 8.4 percent, said Ilham Aliyev.
"This makes me very happy, as it shows the development of the non-oil sector in recent years. This is the result of reforms, and I believe the 8.4-percent growth in the non-oil industry is our main achievement," said Aliyev.
"Last year, the Azerbaijani economy received about $20 billion of investments. Half of them are foreign investments and this is a positive factor. Azerbaijan, as an attractive country, presents its potential to foreign investors," added the president.
He further said that other economic indicators too are demonstrating a positive dynamics.
"Taking into account all of those geopolitical and economic factors, achieving an economic development in 2015 is a great attainment itself," President Aliyev noted.
In his speech at the meeting, the president also said that theeconomy's diversification and development of the non-oil sector will be the main priorities of the economy in 2016.
"I am sure we will have even greater success this year in this direction," he said. "In general, the structure of our GDP changes in a positive way. The weight of non-oil sector is growing."
"Dependence on oil is decreasing, but we must reduce this dependence to the lowest level, in order not to depend on oil prices in the future. That is the objective," added President Aliyev.
"I believe that as a result of a well thought-out policy and hard work, we will be able to achieve this," said the president. "This year, we should attract foreign investments in Azerbaijan in a larger volume."
The president further said a fight for foreign investments is going on today on the global scale, adding that however Azerbaijan is an excellent country for foreign investments and that foreign investments are being protected here.
"It is true that investments are made in a greater volume in the oil and gas sector, but foreign investments in the non-oil sector as well have been made in recent years," he noted.
"We should try to attract foreign investments to our country and, in particular, to the non-oil sector, to those areas, the development of which will in turn lead to a strengthening of our export potential and reduce dependence on imports," President Aliyev further said.
Armenia doesn't want peace
Armenia doesn't want peace, President Aliyev went on to add.
Armenia wants to maintain the status quo as long as possible, it is unwilling to withdraw its troops from the occupied territories and accepts negotiations as a process, trying to buy time, said the president.
Ilham Aliyev stressed that Armenia wants to see the negotiations over the Nagorno-Karabakh conflict settlement as a never-ending process in the future.
The president noted that Azerbaijan's position is completely different.
"We want the conflict to be resolved and the OSCE Minsk Group co-chairs have repeatedly stated that they also want the conflict to be settled. Unfortunately, no pressure in this direction is exerted on the occupier," he said.
__
Follow us on Tweeter @AzerNewsAz
Related News