GMOs still concern Azerbaijani consumers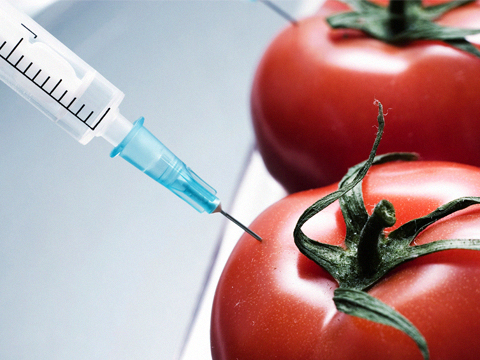 By Nigar Orujova
Debates on genetically modified organisms (GMOs) have raged on for years, as scientists around the world remain unable to arrive at a consensus. While some countries are neutral on the issue of GMOs, Azerbaijan has expressed a strict position of non-acceptance.
However, some believe, GMO products are still on sale in Azerbaijan.
Chairman of the Free Consumers Union Eyyub Huseynov told the local press that, GMO products are not only on sale, but also grown in Azerbaijan.
He said GMO products including watermelons, tomatoes, more than 50 percent of potatoes, 60 percent of beets, and 50 percent of corn grown in the country. Moreover, genetically modified seeds were being imported from abroad, he stated.
Huseynov noted that there are only two laboratories available to test these products in the country, which is not enough to ensure compliance with the government's position.
The head of the union urged the creation of a special free laboratory for GMOs, which would be open to anyone who wanted to test products.
"Some $60,000 is needed to create a laboratory to analyze the content of GMOs in a variety of products, including readymade food, seeds, and raw materials. The cost of an analysis is estimated at $700," Huseynov said. "Another part of the problem is training professionals in this field. The country has 15-16 such specialists, who are aware of the problem only in theory."
The head of the consumer union warned consumers to be careful while buying abnormally large fruits and vegetables.
"If a consumer sees apples or potatoes that are unnaturally large, it is better not to buy these products. The buyer must realize that ordinary potatoes and apples are not that large," he stressed.
Huseynov acknowledged the need to protect Azerbaijan's domestic market from GMO products.
"Some food items that come to Azerbaijan from foreign countries are sometimes not accompanied by appropriate documentation. In addition, there is no obligation to label GMOs, which would allow consumers to choose between pure or GMO-containing foods," Huseynov noted.
The head of the union also added that Azerbaijani scientists had not yet proven that GMOs were safe.
Azerbaijan prohibits the import and distribution of GMOs and the use of genetically modified plants in the production of food products by law.
In April, Azerbaijan decided to enforce criminal liability for the use of GMOs. Moreover, changes have been made to the requirements on packaging and labeling that will assure consumers of the lack of GMOs in food products.
Later in July, the State Committee for Standardization, Metrology, and Patents reported that no GMOs were found during a routine check.
--
Nigar Orujova is AzerNews' staff journalist. Follow her on Twitter: @o_nigar
Follow us on Twitter: @AzerNewsAz