16 October 2015 13:27 (UTC+04:00)
1 398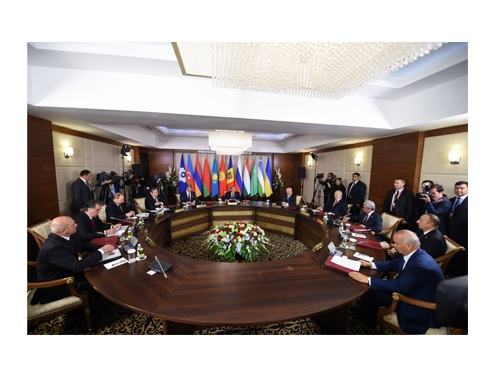 By Nigar Orujova
The heads of CIS countries adopted a statement on fighting international terrorism and the concept of a military cooperation between CIS member states until 2020, TASS news agency reported.
A total of 16 documents have been signed during an expanded meeting of the CIS Council of Heads of State in Kazakhstan on October 16. Azerbaijani President Ilham Aliyev is attending the meeting.
Moreover, the participants adopted a statement on the 70th anniversary of the UN and an appeal on the 30th anniversary of the Chernobyl disaster.
The sides made the decision to form working groups between their respective border and other agencies for crisis management along their borders, as well as a program of cooperation for strengthening the security of their external borders for 2016-2020.
Several documents have been dedicated to cooperation in the law enforcement sphere.
An agreement on cooperation in the prevention and elimination of emergency situations is also among the signed documents.
Furthermore, the leaders of CIS states approved the new head of the CIS Anti-terrorism Center and chairperson of the Coordinating Committee for Air Defense under the CIS Council of Defense Ministers.
Finally, the CIS finalized documents for handing over CIS chairmanship from Kazakhstan to Kyrgyzstan in 2016.
The next meeting of the CIS Council of Heads of State will be held on September 16, 2016 in Kyrgyzstan.
The adoption and implementation of the final documents of the summit of CIS Council of Heads of State will allow member states to intensify the cooperation, Kazakhstan's President Nursultan Nazarbayev said, RIA Novosti reported.
Nazarbayev noted that the agenda of the meeting includes 17 issues, adding that a large section has been dedicated to issues related to ensuring security, law and order.
The president said that since the founding of the CIS, Kazakhstan supported and continues to support the intensification of multilateral cooperation between member states.
It is a universal platform bringing together 11 post-Soviet states and it has no analogues, he added.
"Here, we can exchange views on the most urgent problems of international politics, discuss any issues related to our multilateral cooperation," said Nazarbayev.
Russia's President Vladimir Putin, in turn, stressed that about 7,000 natives of Russia and the CIS are fighting on behalf of the Islamic State (IS, aka ISIL or ISIS).
"I'd like to highlight the increased urgency of cooperation in combating international terrorism and as part of our community," RIA Novosti quoted Putin. "According to various estimates, 5,000 to 7,000 natives of Russia and other CIS countries are already fighting on the side of the ISIL.".
Putin added that those people cannot be allowed to use the Syrian experience in their home countries.
Meanwhile, he noted that Russia's Aerospace Forces have already achieved significant results in Syria.
"Dozens of control centers and ammunition warehouses, hundreds of terrorists and a large number of military hardware have been destroyed," said Putin. "At the same time, we continue to stand for creation of the widest possible coalition against extremists and terrorists."
Related News