20 April 2015 17:07 (UTC+04:00)
435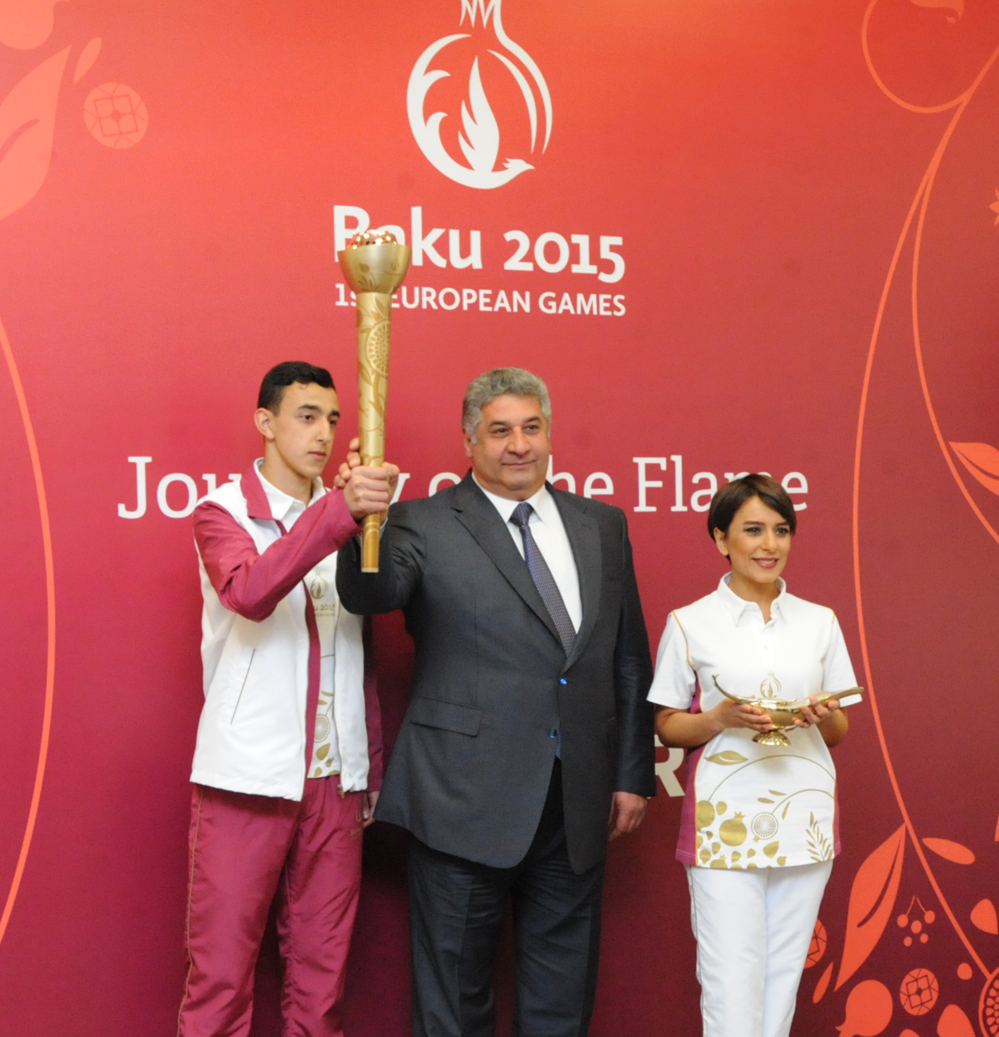 By Nigar Orujova
The torch of Baku 2015 European Games will travel across Azerbaijan's 60 regions in 47 days by June 12.
This was announced by Azerbaijan's Youth and Sport Minister, Azad Rahimov at a presentation of the torchlight procession program of the first European Games.
The ceremony also saw the torch and lamp, designed by Sebastian Bergne under the artistic guidance of the Yarat Contemporary Art Organization.
"The torch was created using the traditional art of Azerbaijani coinage. Thus, the torch will represent our national and spiritual values," said Rahimov.
The foundation of the torch stands at 660 centimeters height resembling the pomegranate tree of the Baku 2015 brand. The copper fire bowl is made in the form of a pomegranate, where 50 grains symbolizing the number of countries participating in the Games, he explained.
The torching process will feature the history of Azerbaijan, its natural resources, the country's achievements in the fields of culture and sport, the minister stressed.
The torch of Baku-2015 will be lit in the ancient and sacred temple of fire-worshipers Ateshgah, Rahimov said.
It will cross the 5,500 km, spreading the spirit of the Games and warming the hearts of the people. The torch will travel on by ground, bus, funicular and bike, in the Baku Metro as well as by water and air.
Rahimov stressed that lamps filled with oil engraved with pomegranate motifs will be located at each point for the transmission of the fire.
The march will involve more than 1,000 torchbearers, 150 teams and 132 transport means.
The torch will return to Baku on June 7. Moreover, the capital city will enjoy fun activities before the opening the Games.
"This include such activities as the Day of sports arenas on June 8, the Day of the Old City on June 9, the Day of Art and Architecture on June 10, and the last day of the torchlight procession program on June 11," said Rahimov.
The Games are a bright historic event in the history of Azerbaijan and the European sport, he said.
"It will have a major impact on the development of our country as an independent member of the European family looking in the future with hope," he stressed.
Director of ceremonies, Catherine Ugwu noted that the torchlight procession will create the perfect mood and will lit the interest of the public to the first European Games as it travels across the country.
The procession will determine the course of subsequent events, she said.
The exciting and innovative new multi-sport event in Baku will include 20 sports, 16 of which are Olympic, during the 17 days of competition in June 12-28. 6,000 athletes will prove themselves in Azerbaijan's capital.
--
Nigar Orujova is AzerNews's staff journalist, follow her on Twitter: @o_nigar
Follow us on Twitter @AzerNewsAz
Related News