25 February 2015 18:34 (UTC+04:00)
866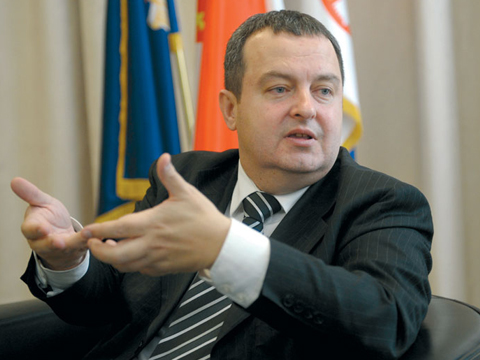 By Mushvig Mehdiyev
The periodical growth of tensions in the Nagorno-Karabakh region has become a source of grave concerns for the Organization for Security and Cooperation in Europe, a top-ranking OSCE official said.
While speaking at the UN Security Council meeting, Ivica Dacic, OSCE Chairperson-in-Office and Serbian Foreign Minister, noted that his organization has witnessed deterioration in relations between Armenia and Azerbaijan armed forces.
"I am particularly concerned over recent developments related to the Nagorno-Karabakh region. Last year's three meetings between the presidents of Armenia and Azerbaijan were an encouraging indication of a renewed appetite for dialogue. However, since then, we have observed a sharp aggravation of the situation on the ground and the political process has slowed down," Dacic explained.
Following the presidents' meeting in Paris last November, Armenia's armed forces ignored all positive results, violating in several instances Azerbaijan's territorial integrity. For example, an Armenian combat helicopter violated Azerbaijan's airspace and was subsequently knocked down by Azerbaijani forces. The event was interpreted as proof that Armenia is not committed to peace negotiations.
Dacic said Serbia's OSCE Chairmanship will continue to support the efforts of the Minsk Group co-chairs to facilitate high-level meetings in view of establishing a long-standing agreement.
Recalling meetings with international mediators and officials in Munich, Dacic listed what steps will be taken to move forward.
"In Munich, I also met with the foreign ministers of Armenia and Azerbaijan. I will continue to keep in touch with leaders in the region when I visit them in a few months."
Dacic's remarks came up along as more criticism has surfaced against the OSCE Minsk Group's failure to achieve any tangible result in regards to the Nagorno-Karabakh conflict despite over two decades of activity.
Although the OSCE Minsk Group is busy with brokering peace talks in between Azerbaijan and Armenia, critics have raised some questions over the efficiency of such talks.
American Co-Chair James Warlick's statement came after he confessed he did not believe the OSCE had any more cards to add to the negotiating table.
Periodical visits of OSCE Minsk Group Co-Chairs - Warlick (US), Igor Popov (Russia) and Pierre Andrieu (France) have lost their substance.
Azerbaijan's internationally recognized Nagorno-Karabakh territory has become a conflict zone following Armenia's aggression in the early 1990s. As a result of Armenia's armed invasion, 20 percent of Azerbaijan's territory fell under Armenia's occupation. Nonetheless, the OSCE has attempted to foster a peaceful resolution to this conflict amid Armenia's persistent derailment on peace talks.
- - -
Follow Mushvig Mehdiyev on Twitter: @Mushviggo
Follow us on Twitter: @AzerNews
Related News