15 January 2015 11:56 (UTC+04:00)
1 756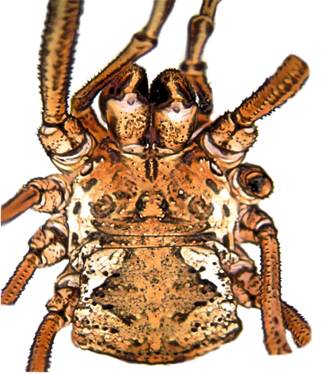 By Amina Nazarli
Azerbaijan rich with fauna has discovered three new spider species.
The Institute of Zoology of Azerbaijan National Academy of Sciences said that Azerbaijani scientist, PhD in Biology Natalya Snegova has discovered new spider species belonging to the harvestmen family.
They are called Rilaena kelbajarica, Phalangium mcheidzeae and Phalangium gorbunovi.
Earlier, Azerbaijani scientist for the first time discovered Cryptosporidium Parvum parasite among domestic and wild animals.
Moreover, such kinds of amoeba as Difflugia Microclaviformis and D.corona Tuberculata were discovered in the fresh waters of Azerbaijan's Lankaran region.
The national scientists also discovered six new species of dragonflies (Coenagrion puella (Linnaeus, 1758), C.vanbrinkae Lohmann, 1993, Cordulegaster insignis charpentieri Kolenati, C.vanbrinkae Lohman, 1993, Crocothemis servilla Drury, 1773, Libellula pontica Selys, 1887), as well as one species of mites called Myrmicothrombium sp.
In January 2014, two new fish species Stone moroko (Pseudorasbora parva) and Korean sharpbelly (Hemiculter leucisculus) were discovered in Azerbaijan.
Evidently, these fishes were by accident introduced to Azerbaijan's fauna in the 1970s during the introduction of herbivorous fishes.
Stone morocco is widespread in almost all inland waters of Azerbaijan and in Azerbaijani part of the Caspian Sea. The five-year old specimen with a length of 94 mm and weight of 10 grams has been seen in Azerbaijani waters.
Korean sharpbelly lives in the rivers of Lankaran region, Mingachevir water reservoir, the lower parts of Kura and Araz rivers, in the Azerbaijani sector of the Caspian Sea from Absheron peninsula to Astara region. The oldest specimen is five years old, and has a length of 150 mm and weighs 25.4 grams.
The animal kingdom of Azerbaijan is very rich with insects, partly due to diversity of its natural complexes. However, some of them are included in the list of the Red Book of Azerbaijan.
Flora and fauna species listed in the Red Book are divided into two categories: endangered and rare species. In the latest edition of the Red Book of Azerbaijan, 74 species of insects are included. In its previous edition, there were only 40 species.
Related News