8 December 2014 15:07 (UTC+04:00)
1 376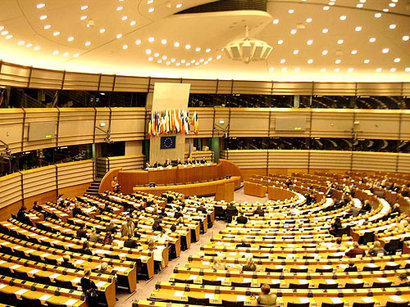 By Sara Rajabova
Azerbaijani MP has urged his European colleagues to follow legal standards when dealing with issues of importance for Azerbaijan.
Elkhan Suleymanov, the Chairman of the Azerbaijani Delegation to the Euronest PA, called on European MPs to respect legal standards while dealing with the criminal case against activist Leyla Yunus and the continued Armenian occupation of Nagorno-Karabakh and surrounding territories, PR Newswire website reported.
In a bid to clarify what he says are inconsistencies on the part of the European Parliament in both areas, Suleymanov has written to organization's President Martin Schulz challenging him for answers.
Firstly, Suleymanov asked Schulz to clarify his November call for immediate release of accused fraudster Yunus. This, he said, "disrespects judgments of the Azerbaijani courts" given the fact Yunus is midway through a serious treason and corruption case.
"Could any prominent public and political figure call for the release of a person who is being investigated in the European zone?" he asked in an open letter. "Certainly, the reaction would be negative. Then why do you have raised such issue?"
He also expressed concern about "international legal standards" being ignored by the European Parliament over the issue of the Armenian occupation of Nagorno-Karabakh and surrounding territories.
Armenia occupied over 20 percent of Azerbaijan's internationally recognized territory, including Nagorno-Karabakh and seven adjacent regions, after laying territorial claims against its South Caucasus neighbor that caused a brutal war in the early 1990s. Long-standing efforts by U.S, Russian and French mediators have been largely fruitless so far.
Suleymanov said despite the occupation over the past two decades, have been deemed unlawful in the past by a number of international organizations, including the UN Security Council and the European Parliament, such bodies are now reluctant to calls to respond the aggressor state.
"I hope that Armenia and Azerbaijan will overcome their difficult conflict over Nagorno-Karabakh," Schulz said in 2012.
"Last year he added that they should resolve it 'themselves,'" Suleymanov stressed.
He further noted that it seems Schulz has forgotten "the importance of liberating the Azerbaijani territories from armed Armenian occupation within the framework of internationally legal standards."
Suleymanov also said bodies such as the EP should be just as concerned about the violation of Azerbaijan's territorial integrity at the hands of Armenia as they have been of Ukraine's loss of territorial integrity.
Related News