Azerbaijan fighting sturgeon smuggling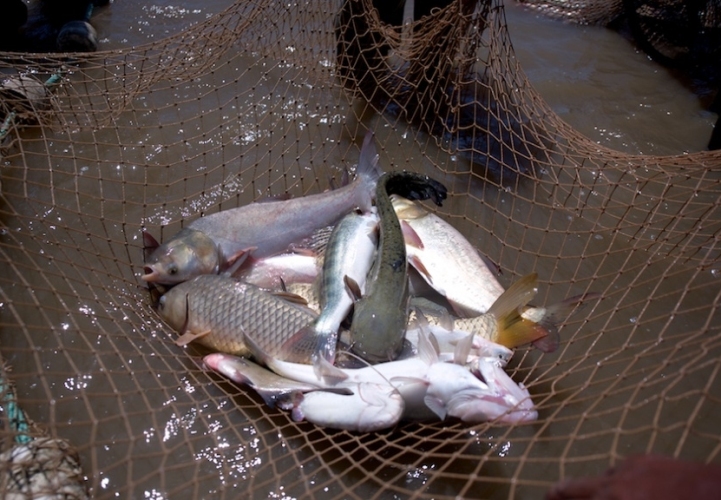 By Nigar Orujova
Smuggling of sturgeon into Azerbaijan keeps going on in a variety of ways, the Azerbaijani Ecology and Natural Resources Ministry said.Domestic market is now dominated by sturgeon imported from abroad.
Ministry's Spokesman Irada Ibragimova said, the illegal import of 19 different species of sturgeon amounting 300 kg have been stopped over the past nine months.
Some 90 percent of the popular black and red caviar all over the world comes from the Caspian Sea.
The Caspian Sea, a home to 80-85 percent of the world sturgeon, is witnessing a sharp decrease of these fish species. To prevent such a trend, Caspian countries, excluding Turkmenistan, have established fish factories on artificial breeding of sturgeon.
The ministry registered 48 violation cases in the Azerbaijani sector of the Caspian Sea, including violations of 21 acts, 29 protocols in January-September, 2014. It also prosecuted 28 people on similar charges. The Ministry confiscated 6 boats, 70 networks, 7,000 banned hunting supplies used for sturgeon fishing and 740 other fish species.
Seven cases were sent to the district court, 13 cases to law enforcement agencies and 14 cases were reviewed administratively. Meanwhile, a claim was made in the amount of 39,387 manats for damage caused for bio-resources.
The Caspian Sea with its rich natural resources is also a home to about 141 other fish species. However, this natural wonder is struggling with different problems including pollution.
Experts believe that some of the causes of the pollution in the sea include development of hydrocarbon reserves in the sea and its surrounding areas, high density of population and industry in the adjacent areas, intensive agricultural development in valleys and the rivers flowing into them, and its closed ecosystem.
There has been a tenfold decrease in the number of sprats and sturgeons in the Caspian Sea over the past years.
Five coastal states, Azerbaijan, Kazakhstan, Russia, Turkmenistan and Iran, signed a framework convention on the protection of the marine environment of the Caspian Sea in November 2003.
Caspian littoral states has banned any industrial or commercial sturgeon fishing in the sea this year at the 34th meeting of the Commission on Aquatic Bio resources of the Caspian Sea.
Sturgeon fishing in the Caspian was allowed only for scientific research purposes in 2012.