Caspian countries to define all regional cooperation areas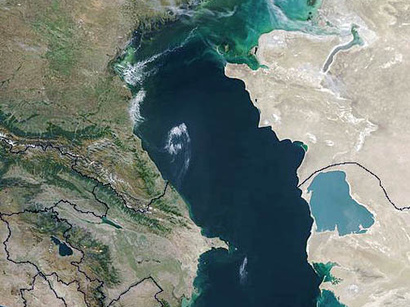 By Nigar Orujova
The fundamental principles of defining the Caspian Sea's legal status, developed at the Caspian summit in Astrakhan, will be a basis for a convention to be signed at the next summit of Caspian states.
The statement came from Russian Foreign Minister Sergei Lavrov, Russia24 TV channel reported.
"The declaration will now be used to saturate the convention with specific agreements, and articles. And the main approved principle is that the Caspian countries will themselves define all cooperation areas in the region," he stressed.
Lavrov said this primarily applies to security, as there will be no armed forces of other countries in the Caspian Sea.
He noted that the Caspian countries agreed upon a very important issue on the width of state zones, including the zone the sovereignty and fishing zones.
"This is one of the key issues that must be reflected in the convention on the legal status of the Caspian Sea," the minister added.
Lavrov admitted that there are still several unresolved issues, citing the thorny issue of construction of trans-Caspian pipelines as an example.
"We believe that the Caspian states should take decision on this issue together," he said, emphasizing the need to ensure the environmental safety of the sea.
Russian city of Astrakhan hosted the fourth Caspian Summit in late September, attended by the heads of all the Caspian littoral states - Azerbaijani President Ilham Aliyev, Russian President Vladimir Putin, Iranian President Hassan Rouhani, Kazakh President Nursultan Nazarbayev and Turkmen President Gurbanguly Berdimuhamedov.
The summit participants inked several important agreements on the joint use of the Caspian Sea.
The list of agreements included an agreement on cooperation in hydrometeorology of the Caspian Sea, an agreement on cooperation in warning and liquidating emergencies in the Caspian Sea and an agreement on the preservation and rational use of water biological resources in the Caspian Sea.
Leaders of the Caspian states also agreed on the principles of national sovereignty of each country over the coastal maritime space in the range of 15 miles and 10 "fishing" miles.
The participants also agreed on the principles of the right for free access from the Caspian Sea to other seas and back on the basis of international law, taking into account the interests of the transit parties.
Caspian Sea is one of the world's largest oil and gas-bearing regions in the world after the Persian Gulf. The issue of the shelf's division will eventually determine the share of hydrocarbon reserves.
The legal status of the Caspian Sea has been a subject of discussion among the littoral states for over 12 years. The uncertain position of the sea hinders the implementation of oil and gas projects of billions dollars.
The positions of Azerbaijan, Russia and Kazakhstan coincide on this issue as each country can receive over 20 percent on the Caspian seabed. However, the other littoral states -Turkmenistan and Iran- have not reached a consensus yet.