23 September 2014 10:11 (UTC+04:00)
1 015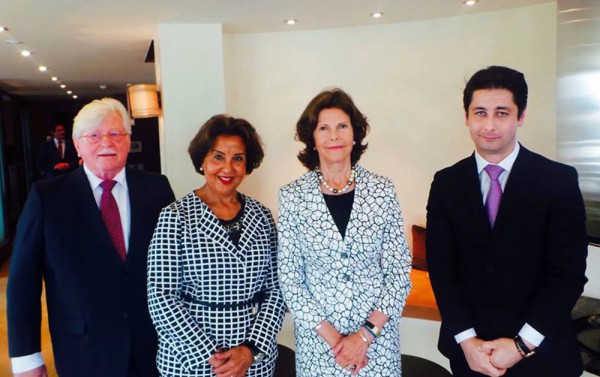 Queen Silvia of Sweden has met representatives of the Nizami Ganjavi International Centre in Geneva.
Board members Walter Fust, Farida Allaghi and Rovshan Muradov attended the meeting.
The meeting featured exchange of views on activity of Azerbaijani great poet Nizami Ganjav, AzerTag state news agency reported.
The sides also discussed the projects and initiatives implemented by the Nizami Ganjavi International Centre.
The Swedish queen was informed about the 3rd Global Shared Societies Forum to be held in Baku in 2015.
Nizami Ganjavi International Center with its head office in Azerbaijan's second largest city, Ganja, was established in September 2012 to increase awareness of the great works of Nizami Ganjavi.
The Center helps to return Nizami's masterpieces to the homeland, serves as a depository for Nizami's works, and further develops the values embodied in his works through community engagement.
Nizami Ganjavi, the 12th century greatest representative of the Eastern Renaissance, displayed the quintessence of world literature and philosophy in his immortal works via the aesthetic power of his art.
Ganjavi started his creative endeavors with lyric poems. Nizami's lyric works stand out for high professionalism, secular attitude to love and humanist thoughts about a man's destiny.
Related News