12 September 2014 11:19 (UTC+04:00)
1 531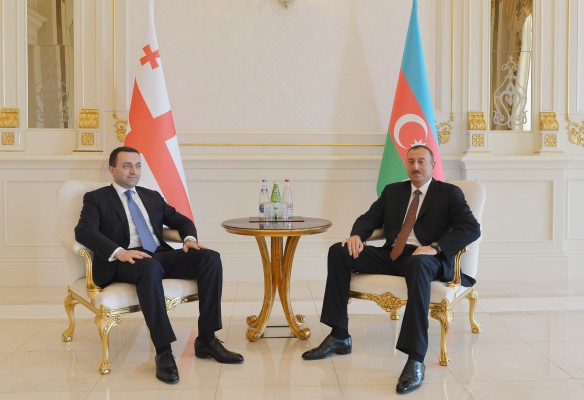 By Aynur Jafarova
Azerbaijan and Georgia have expressed satisfaction with the successful development of bilateral relations between the two countries in various fields, including political, economic and energy.
This was voiced at a one-on-one meeting between Azerbaijani President Ilham Aliyev and visiting Georgian Prime Minister Irakli Garibashvili on September 11.
The sides also expressed confidence that Azerbaijani-Georgian ties would develop further.
Later, President Aliyev and Prime Minister Garibashvili held an expanded meeting attended by delegations from both sides.
Welcoming the Georgian delegation, President Aliyev said Azerbaijan and Georgia are closely cooperating in the region.
He also noted during the meeting, the two sides will discuss various areas of bilateral relations.
Garibashvili, for his part, said Georgia and Azerbaijan are close friends, strategic partners, neighbors and brotherly countries. He noted the importance of deepening the relations.
After the expanded meeting, President Aliyev and Prime Minister of Georgia Irakli Garibashvili had a joint dinner.
As part of the Baku visit, Garibashvili met with his Azerbaijani counterpart Artur Rasizade and the sides discussed ways to develop the bilateral relations.
Rasizade and Garibashvili firstly held private talks before being joined by their delegations for a meeting in an expanded format.
Rasizade hailed Azerbaijani-Georgian relations, saying they are developing successfully in political, economic and humanitarian areas.
Garibashvili noted his country is keen to deepen "historically friendly and brotherly relations" with Azerbaijan.
Later, Garibashvili addressed the journalists and said he will once again visit Azerbaijan on September 20.
"I will come again on a visit to Baku on September 20, which will host the signing ceremony of the beginning of Southern Caucasus pipeline expansion project," the Georgian prime minister told media.
Garibashvili also praised the current intensive negotiations with the Azerbaijani and the Turkish sides on an energy corridor for the export of electricity.
"This is a very important project for us and the region," Garibashvili said.
He went on to add that Azerbaijani companies are planning to increase investments in Georgia.
"This is my first official visit to Baku. We have discussed many issues and reaffirmed that we are strategic partners. Georgia is a reliable partner of Azerbaijan," he said.
The prime minister said he expects new investments by Azerbaijan.
"We hope that Azerbaijani companies increase investments in Georgia's economy," Garibashvili said.
Azerbaijan and Georgia established diplomatic relations in 1992 -- a year after gaining independence from the Soviet Union. In October 1997, Azerbaijan and Georgia became two of the four founding members of GUAM, an organization which also comprises Ukraine and Moldova.
Along with broad cooperation in regional development, transport, economic and other important projects, Azerbaijan and Georgia have long-standing and successful cooperation in the energy sector. Azerbaijani state oil company SOCAR is closely involved in the energy market of the neighboring South Caucasus republic.
Azerbaijan has long been the second biggest trade partner of Georgia. The trade turnover between them amounted to $372.02 million in January-July, 2014.
Azerbaijan imported Georgian products worth $55.93 million. Meanwhile, Georgia imported goods worth $316.09 million.
In 2013, the volume of direct investment into the Georgian economy increased by 60 percent. Azerbaijan invested $89.9 million to Georgia in 2013, thereby ranking fourth among the largest investors in Georgia.
Related News