25 August 2014 16:12 (UTC+04:00)
1 405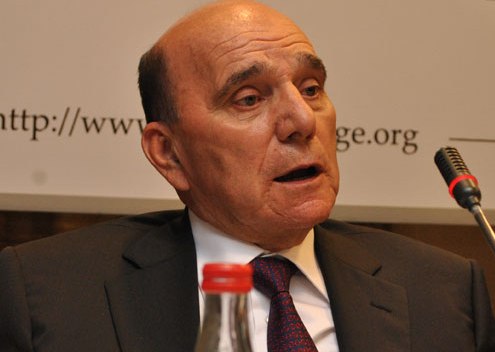 By Sara Rajabova
An Azerbaijani MP has criticized the Parliamentary Assembly of the Council of Europe (PACE) for its double standards demonstrated towards Azerbaijan.
Member of the Azerbaijani parliamentary delegation to PACE, Elkhan Suleymanov appealed the PACE President Anne Brasseur and members of the PACE Bureau, the Secretary General of the Council of Europe Thorbjorn Jagland and PACE Secretary General Wojciech Sawicki regarding organizations' double standards during PACE's June session.
Suleymanov protested the Executive Committee Secretariat for raising a last minute procedural objection against a resolution motion demanding the application of sanctions against Armenia for its occupation of Azerbaijani territories, co-signed by 58 members representing 14 PACE member-states.
He stressed that the draft resolution was officially printed, thus - according to the rules - proving to be fully in order.
Sawicki proposed to Suleymanov to rewrite the motion on a required format, not mentioning sanctions, according to Suleymanov.
"I put on table a new motion in a short time. The other motion, entitled "The Nagorno-Karabakh conflict", which was tabled a few hours after my motion, obviously serves the interests of Armenia, as it does not cover the situation of all Azerbaijani territories occupied by Armenia," Suleymanov said.
He further stressed the fact that international organizations, as well as PACE have not yet imposed sanctions against Armenia, which has carried out ethnic cleansing policy in the occupied Azerbaijani territories and made one million civilians homeless and internally displaced. On the contrary, he said, they have protected it against sanctions and this has encouraged Armenia to commit new crimes against Azerbaijan.
Addressing the PACE, Suleymanov voiced hope that "all those, who are defending honesty, dignity and objectivity, will not just ignore the 23 year occupation of one fifth of the territory of Azerbaijan, including Nagorno-Karabakh, by Armenia."
In June, Suleymanov appealed on the PACE to impose sanctions against Armenian delegation for Yerevan's continuous occupation of Azerbaijani territories.
He cited PACE resolution and relevant documents of the other organization demanding immediate release of the occupied territories.
Armenia occupied over 20 percent of Azerbaijan's internationally recognized territory, including Nagorno-Karabakh and seven adjacent regions, after laying territorial claims against its South Caucasus neighbor that caused a brutal war in the early 1990s.
Long-standing efforts by U.S., Russian and French mediators have been largely fruitless so far.
As a result of the military aggression of Armenia, over 20,000 Azerbaijanis were killed, 4,866 are reported missing and almost 100,000 were injured, and 50,000 were disabled.
The UN Security Council has passed four resolutions on Armenian withdrawal from the Azerbaijani territory, but they have not been enforced to this day.
Related News