Gadabay celebrates 3,000-year anniversary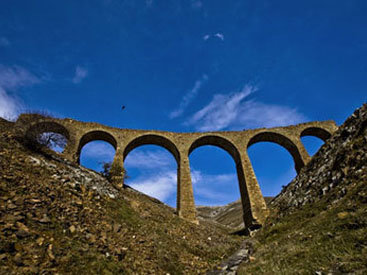 By Victoria Moiseyeva
Gadabay region marked 3,000th anniversary of its establishment in a ceremony attended by different public figures.
Officials of various regions of Azerbaijan and representatives of science and education who attended the gala event praised the large-scale projects implemented in Gadabay in recent years.
After the event, participants attended the opening of the amphitheater, built in Heydar Aliyev Park, and listened to the music here.
Gadabay is rich in black and white marble and iron reserves. It used to be a summer pasture for surrounding villages. It was called "The Hill of the Rising Sun". Gadabay region where numerous meadows, springs, mountains and forests are all near each other has strong capacity for tourism. When a copper mine was put into operation here in the 19th century, the word "mine" became a geographical name in the language of the local population.
Interestingly enough, until 1865, the copper extraction and processing industry was led by Hermann Tanker from Hanover and Simen Maric from Denmark.
Subsequently, all shares were bought by the German brothers Werner and Walter Siemens. They established another copper-smelting factory in Galakand in 1883 and built a road and railway between Gadabay and Gala­kand, as well as a power station to smelt copper. This factory was the largest in the Cauca­sus and the only one in Azerbaijan.
Gadabay's soil is appropriate for growing potato which is re­garded as second bread. The country's largest potato-growing region provides tons of potatoes every year. A local sort of potatoes stands out for its sweet taste.
Clean air and stress-free and healthy lifestyle, as well as hard work at farms have turned the region into a land of old-timers. In Gadabay, there are more than hundred centenarians. Most of the old-timers live in Gadabay's Shinikh area.