Azerbaijan's Border Service capable of liberating occupied territories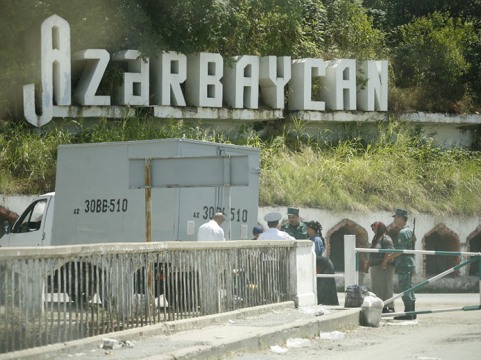 By Nigar Orujova
Personnel of the State Border Service led by the Chief of the State Border Service Colonel-General Elchin Guliyev paid tribute to the memory of national leader Heydar Aliyev and outstanding scientist ophthalmologist and academician Zarifa Aliyeva.
The service made the tribute in the Alley of Honor after coming together to mark the 95th anniversary of the founding of the Border Troops of Azerbaijan on August 18.
In the Alley of Martyrs, the personnel of the service commemorated the heroic sons of Azerbaijan, who gave their lives for the country's independence and territorial integrity.
Deputy Head of the service Major General Azad Alekperov told journalists that Azerbaijan State Border Service is equipped with the most modern technologies.
"A lot of works have been done within the framework of protection of the state borders of Azerbaijan on the Caspian Sea," he said.
Alekperov stressed that the State Border Service is ready to fulfill the order of the Supreme Commander for the protection of state borders and the liberation of the occupied territories of Azerbaijan.
"Azerbaijan continues to build new border posts and to strengthen the border infrastructure", he said.
Moreover, Alekperov noted that the personnel of the State Border Guard Service protect reliably the state borders of Azerbaijan against foreign threats.
"Azerbaijan is implementing a program to enhance the security of the state borders in mountain areas," he added.
Armenia occupied over 20 percent of Azerbaijan's internationally recognized territory, including Nagorno-Karabakh and seven adjacent regions, after laying territorial claims against its South Caucasus neighbor that caused a brutal war in the early 1990s.
As a result of the military aggression of Armenia, over 20,000 Azerbaijanis were killed, 4,866 are reported missing, almost 100,000 were injured and 50,000 were disabled.
The UN Security Council has passed four resolutions on Armenian withdrawal from the Azerbaijani territory, but they have not been enforced to this day.
Peace talks, mediated by Russia, France and the U.S. through the OSCE Minsk Group, are underway on the basis of a peace outline proposed by the Minsk Group co-chairs and dubbed the Madrid Principles. The negotiations have been largely fruitless so far.